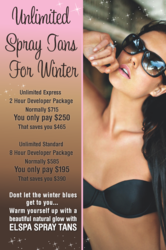 Don't let the winter blues get you
Red Hill, Brisbane (PRWEB) May 28, 2012
Elspa will be offering a special Unlimited Spray Tans for the winter season. The special will be available starting June through the end of August.
The special deal will let clients get an unlimited number of spray tans after a single payment. Unlimited spray tans are only available from June through August. Once clients have made their first payment, they will be able to come back for as many free retouches as they want within the winter season.
The spa offers a standard 8-hour Developer Package for $195 and an express 2-hour Developer Packager for $250.
Elspa uses natural and organic based cosmeceutical products in their tanning treatments, like Vani-T, which is very popular among Hollywood A-List celebrities. They also use Naked Tan solutions, also made with natural tanning ingredients.
The original prices for their tanning treatments are $585 and $715 respectively. This Unlimited Spray Tans for Winter deal saves clients up to $390 on the 2-hour express package and $465 on the 8-hour package.
Elisa Lago of Elspa beauty salon says, "They can come in weekly or fortnightly whenever they want so they can leave looking like a bronzed goddess i know you can be! Looking hot, sexy, turning heads and having your girlfriends wonder what on earth your secret is!"
"Don't let the winter blues get you… Warm yourself up with a beautiful natural glow with Elspa Spray Tans."
Maria of Kelvin Grove says, "Elspa has the best therapists I have ever had the pleasure to associate with. Their manner is always professional, joyful and skillful. I'm fortunate enough to live just down the road."
Elspa can be found in 110 Windsor Road, Red Hill, QLD 4059, Brisbane and they can be contacted by calling 3367 3322 or emailing info(at)elspa(dot)com(dot)au.
About Elspa
Elspa is a beauty spa and salon that specializes in facials, eyebrow treatments, waxing, tanning, and hand, feet & body treatments. Elspa uses a state-of-the-art system for body treatments and hydrotherapy services. It also houses a makeup studio, and offers makeup supplies and lessons.