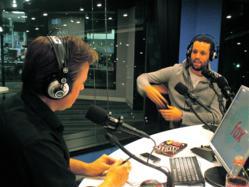 Melbourne, Australia (PRWEB) May 29, 2012
In '7 Levers Redux,' Williams and Goucher discuss their framework for analyzing and improving business by focusing on the primary elements of every business, then systematically working to improve each one by just 10% for a massive result.
Williams and Goucher's 7 Levers are seven areas of any business that can be improved to provide growth, and show how a systematic approach to making small increases in each one could almost double profits in less than a year.
To listen to the entire episode and subscribe to the podcast, visit: http://www.preneurmedia.tv/preneurcast/preneurcast052-7-levers-of-business-redux/.
PreneurCast is one of iTunes' hottest marketing podcasts created by entrepreneur and marketer Pete Williams, and digital media producer Dom Goucher. It's where they discuss entrepreneurship, business, internet marketing and productivity (with a fair smattering of software and gadgets too). In its first few weeks of release, PreneurCast was featured in the New & Noteworthy section in the Australian, UK and US iTunes Stores, and is consistently one of the Top Podcasts in the Marketing and Management category.