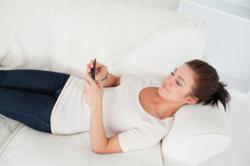 Times have changed. We need to be able to disconnect without feeling guilt and being branded 'anti-social' or at least, 'anti-social' should be an acceptable life choice.
Chicago, IL (PRWEB) May 31, 2012
Social networks like Facebook and Twitter together with advances in telecommunications have connected people like never before yet a lot of people are now looking to disconnect.
A new study conducted by Nokia found that people are more likely to reach out to their friends and family via text messages or email with only 17% of respondents likely to choose a voice call to connect.
And even though the number of wireless connections have increased dramatically in recent years, voice usage on those phones has decreased, and our calls are getting shorter. In 2003, the average local mobile phone call lasted a leisurely three minutes, by 2010 it had been trimmed to a terse one minute and 47 seconds.
Award-winning, bestselling author of "Being Anti-Social", Leigh K. Cunningham, says "email, texting and messaging via Facebook is less intrusive. We're all trying to do too much these days so being able to communicate on the run or when it's convenient is much better than sitting on the phone chatting with no purpose or direction or taking the time to actually visit a friend or family member."
However with so little face time there is a risk that we will lose the ability to communicate altogether especially when it comes to dealing with difficult situations like break-ups and family issues.
But Cunningham says not. "When you deal with people at work and you're expected to be switched on 24/7 at home and work, it's reasonable to want to cut yourself off at some point to recharge. Your home should be a sanctuary away from the demands of the world and this makes you better able to handle the day-to-day demands and stresses of busy lives. It doesn't suddenly make you unable to communicate. Some call it being anti-social but it's become a necessity. We need to be able to disconnect without feeling guilty and being branded 'anti-social' or at least, 'anti-social' should be an acceptable life choice."
In "Being Anti-Social", the main protagonist does just that. At the end of each day in the corporate world, the answering machine takes her calls, she screens visitors and only uses email for communication when it suits her. In winter months, she barely goes out at all. She reluctantly joins Facebook but her lack of interest is evident.
Cunningham says the story was inspired by real events. "Friends had asked me to join them for a night out. I'd had a rough day at work and didn't want to go so I said as much. This wasn't accepted – they said going out was the best cure for a bad work day and staying home was 'anti-social' so I relented. I had a miserable time and it left me thinking that in future I would have to lie myself out of these situations. I shouldn't have to. It should be OK to choose to stay home. It should be OK to be 'anti-social'.'"
Being Anti-Social (May 2012) is a humorous look at today's networked society and how people cope with 24/7 connectivity. All four titles by Cunningham, including two children's books, are available on Amazon.com and in the Kindle Store.
About the Author Leigh K Cunningham
Leigh K Cunningham is a lawyer with a career as a senior executive for a number of public companies in her home country of Australia. She has master's degrees in law (Master of International Trade & Investment Law) and commerce (Master of Commerce) as well as an MBA (International Management).
RAIN, Leigh's first title for the adult fiction market (April 2011) was named the winner in the Literary Fiction category at the 2011 Indie Excellence Awards. RAIN was also awarded a silver medal at the 2011 Independent Publisher Awards (IPPY) in the Regional Fiction: Australia/New Zealand category. RAIN was #1 on the Amazon bestseller list for Women's Fiction (December 2011).
Leigh's first two children's books, THE GLASS TABLE and its sequel, SHARDS are recipients of silver medals from the Mom's Choice Awards. SHARDS was also a finalist at the 2011 Indie Excellence Awards in the Juvenile Fiction category.
BEING ANTI-SOCIAL, for adult readers, is Leigh's latest title (May 2012).
Contact:
Leigh K Cunningham
+65-6258 5309
leigh(at)leighkcunningham(dot)com