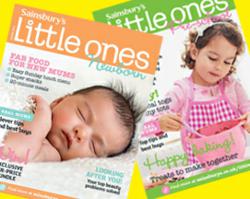 'Everyone wins with targeted content. The customer benefits from receiving information that's super relevant to their lives. This generates brand warmth, driving loyalty and ultimately sales.'
Helen Renshaw, Head of Content
London (PRWEB UK) 28 May 2012
Winner of the 2011 and 2010 APA Best Integrated Marketing Solution award, Sainsbury's Little ones baby & toddler club has triumphed again, reaching the Content Marketing and Finance Director's Prize shortlists for the Marketing Society Awards for Excellence 2012.
Recognising the best in branded content, the Content Marketing category encompasses branded magazines, digital magazines and editorial features on websites, advertiser-funded programming, creative product placement on TV and other media, viral and social editorial content.
Alongside Seven on behalf of Sainsbury's Little ones baby & toddler club, finalists include Specialist for HSBC Banking and Premier Savings and Investments Services, Cedar Communications for Tesco, PHD for The British Heart Foundation and Livity for Top Boy (Channel 4).
The successful Sainsbury's Little ones baby & toddler club has also been shortlisted for the Finance Director's Prize, recognising the most effective use of marketing expenditure to build brand awareness and generate sales.
Judged by an elite panel of top marketing practitioners from blue chip marketing organisations, the Marketing Society Awards for Excellence, in association with Marketing magazine, set the standard of marketing excellence in the UK and is the leading marketing awards in the UK.
Final award winners will be announced on 11 June 2012 at the London Hilton on Park Lane.
Helen Renshaw, Head of Content says: 'Everyone wins with targeted content. The customer benefits from receiving information that's super relevant to their lives – friendly messages that cut through the cacophony of marketing 'noise' and feel genuinely helpful and supportive. This generates brand warmth, driving loyalty and ultimately sales. And the 'win win' effect becomes more pronounced the more targeted the content becomes. It's not a question of whether targeted content is a good idea. The question is: can any brand afford to ignore such a powerful tool?'
Launched in October 2009 by Seven, Sainsbury's Little ones baby & toddler club comprises fantastic lifestage-targeted glossy magazines, monthly content-rich, targeted emails and a recently re-launched website (sainsburys.co.uk/littleones).
The award-winning club was created in response to a very particular challenge: research showed Sainsbury's was under-indexing on young families, the club's mission was to transform Sainsbury's into the supermarket that mums trust the most.
Seven recently launched an improved website for the club, which has a growing member base of half a million. The highly-targeted new site structure splits content by five key life stages: pregnancy, newborn, weaning, toddler and pre-school. The site now includes parenting tips from real mums, making the content more relevant and targeted for users, as well as boosting advertising and revenue. It also has a fantastic, easy-to-use advanced recipe search, making it simple for users to navigate through the hundreds of recipes.
Since launch in October 2009, Sainsbury's Little ones baby & toddler club has had more than 3 million visits, with more than 13.5 million pages viewed. Plus, a survey on the previous site revealed that 83% of members who shopped at sainsburys.co.uk via Little ones bought additional items and 55% would shop online through Little ones again.
Sainsbury's Little ones baby & toddler club has won the Best Integrated Marketing Solution of the year (consumer) at the International Content Marketing Awards for the second year running. The title was also highly commended in the Grand Prix category.
Sainsbury's Little ones baby & toddler club was also a finalist in last year's CIM Marketing Excellence Awards 2011 in the Best in Media and Publishing category.
For more information on Sainsbury's Little ones baby & toddler club, visit: http://www3.sainsburys.co.uk/littleones/
Contact at Seven:
Shareena Ali
PR
Seven
3-7 Herbal Hill
London
EC1R 5EJ
Tel: 020 7775 5549
Email: shareena.ali(at)seven(dot)co(dot)uk