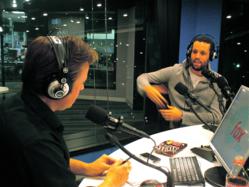 Melbourne, Australia (PRWEB) May 31, 2012
Unorthodoc is a digital medical practice for entrepreneurs. Its founder, Dr. Cory Annis, has been practicing medicine for 20 years.
"Unorthodoc is my attempt to take the quality of medicine that I've been doing for years and put it in a delivery form that's accessible to everybody, but most particularly… entrepreneurs," Dr Annis says. She's a licensed physician in North Carolina, New York, and California. "…they were the kind of people who needed to be able to make an appointment on a dime, or talk to me from Singapore, or talk to me at 6:00 in the morning."
In this 53rd episode of PreneurCast, Dr Annis shares with Williams some tips on how busy people can eat well and stay effective all throughout the day. As a doctor, she works with entrepreneurs who are, by their very nature, aware that that they should take care of every aspect of their life, especially their health, but just don't have the time or have the budget.
To listen to the entire episode and subscribe to the podcast, visit http://www.preneurmedia.tv/preneurcast/preneurcast053-unorthodoc-an-interview-with-cory-annis/.
Just like the other episode of PreneurCast, ' Unorthodoc: An Interview with Cory Annis' comes with easy-to-implement and actionable steps for businesspeople. These include how to overcome afternoon dips, what makes the perfect breakfast, and how to avoid getting sick when you're working so hard.
PreneurCast is one of iTunes' hottest marketing podcasts created by entrepreneur and marketer Pete Williams and digital media producer Dom Goucher. It's where they discuss entrepreneurship, business, internet marketing and productivity (with a fair smattering of software and gadgets too).