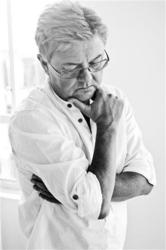 Swimming really gave me a great workout
London, UK (PRWEB UK) 29 May 2012
'Swimming at the 2012 world Masters Championships in Italy means I am extremely fit,' boasts this wonderfully web fingered new mature model.
Specialising in commercial photography, La Mode are experts in providing all the latest model advice as well is offering a top-class photo shoot for any aspiring model, no matter what age they are starting out in their career. The company based in London have a great overview of what really goes on in the high fashion industry and it seems the trend for older models trying out a new career, has reached the dizzying heights of even the highest diving board.
Graham Cawte is the latest mature model to make a splash and dive into the dizzy delights of modelling as La Mode launch yet another perfectly professional portfolio online.
'Graham is an outgoing and active model who loves to pose in front of the camera,' explains Helen Smith, director for La Mode London. 'He believes he has much to offer the business and keeps in shape by taking part in various sports. Graham is interested in nearly every aspect of the modelling world, including lookalike work and mature modelling. He is extremely fit and was a natural in front of the camera,' she explains. The latest model on La Mode's books has the fitness and stamina to take on the rigorous strains and stresses of the modelling industry and is taking it all in his stride. They believe age is of no importance with this particular male model and that the art of swimming is behind the youthful looks of La Mode's latest mature model muse.
'I am very toned and muscular and swimming at the 2012 World Masters in Italy really gave me a great workout,' explains Graham. 'I am extremely fit, very friendly with a great sense of humour. I am very broadminded and I'm willing to try most things at least once.'
At the grand 'young' age of 50, the 5'8" blond haired, blue-eyed swimmer has dabbled in the waters of modelling before. 'I am a part-time professional model who has worked in commercial and mature modelling, fashion and catwalk work, as well as modelling hair and skin products. I enjoy the limelight, and like posing in front of the camera. I believe I have a lot to offer this business and my sport keeps me fantastically fit. I believe I have the figure and build of the 25-year-old, which is not bad for a 50-year-old man -as such, I like to show it off.'
La Mode believes the Graham certainly has the age, experience and the bags of confidence which are all essential to make it in the modelling industry. Mature modelling London certainly has seen a surge recently in older models making a go of a new career.
Graham is also keen to try moving into acting, such as TV and film extra and walk on parts. 'I am very interested in TV commercials,' he adds.
With successful careers still ongoing, actors working well into their mature modelling years provide inspiration for this particular mature male model. Visit http://www.grahamcawte-model.co.uk and see a swimmer with mature model proportions.