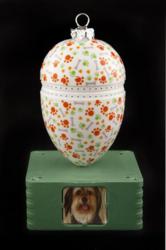 Urnaments draw us to where the happy memories of our loved ones and pets reside.
Glen Rock, New Jersey (PRWEB) May 30, 2012
Urnaments LLC launches its first ever national print advertisement on June 1st. moderndog, the award winning magazine for dog lovers, will feature Pet Urnaments in an ad in their summer issue. Until now, the colorful keepsake urns with the clever name have only been showcased in local newspapers, such as the company's hometown paper The Glen Rock Gazette.
"The Gazette ad was a thrill and bit of an ego boost," says Urnaments President Michael Martino. "I contribute writing articles to the paper occasionally under my pen name MC Martino. When the ad appeared, many friends called to wish us good fortune. The local drug store even offered to display Urnaments. It was all very small townish, got me choked up, actually."
The Pet Urnament ad in moderndog, however, is clearly intended as a "we've arrived" statement, Mr. Martino continued. With a coast to coast readership and celebrities on the cover of every issue, it is the next logical progression to gaining a national foothold. The fact that mooderndog is known for showcasing amazing products doesn't hurt, either.
"I feel like a pioneer," said Mr. Martino. "Pet bereavement products are not something every pet companion magazine embrace. Some still take their cue from the Big Box pet supply retailers who sell just one memorial product. Headstones. I think that is going to change. You heard it here first."
Urnaments LLC has more summer ads in the works and is currently weighing the merits of advertising on facebook. "The fun's just begun," smiles Mr. Martino. "To be continued."
Urnaments LLC was founded by Michael C. Martino in 2010. All engineering / prototyping / designing of the Urnament was completed in November, 2011. Urnaments were designed for the growing market of people seeking to commemorate their departed loved ones and pets in a more heart warming and expressive way. By matching their decorative appeal with an eyelet at the top, Urnaments can displayed on a Christmas tree or anywhere else in the home.
For more information, visit http://www.urnaments.com.