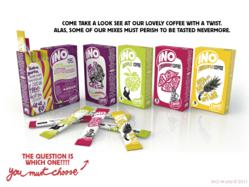 INO was brought about by the change of consumer lifestyles and a thirst to bring genuine product innovation into the hot beverage market. This is why we came up with the idea of Fruit Coffee by fusing actual fruit and coffee beans together to create INO
(PRWEB UK) 30 May 2012
There have been many significant moments in history including Neil Armstrong landing on the Moon and the fall of the Berlin Wall. Now another one has been added thanks to the pioneering Fruit Coffee breakthrough from INO - Coffee With a Twist.
INO have created a world exclusive - an invigorating and unique instant coffee that incorporates a mélange of the freshest organic fruit combined with the finest blend of pure coffee beans.
They have fused these ingredients together in a new process they call Superfangled™ resulting in a Technicolor riot on the taste buds. It contains 100% natural ingredients and has no artificial flavouring.
"This exciting and groundbreaking product as well as the creation of a new sub-category is set to revolutionise the hot beverage sector", says Ali Ataei, Co-founder and CEO of INO and creator of the innovative Fruit Coffee concept. He believes the way we consume coffee in the UK is about to change dramatically.
You can enjoy Coffee With a Twist, wherever and whenever. It's new, it's audacious, it's a two fingered victory salute and air punch rolled into one. It's a deliverance from the normal realism of bland tasting coffee.
INO can be made with milk & sugar just like normal instant coffee, however it does not leave any lingering coffee breath, which we believe will completely shake up the hot beverage market.
INO's Fruit Coffee is smooth and refreshing where regular coffee's bitter aftertaste is now replaced with a stimulating and inspirational fruit taste. Consequently, INO can even be drunk without the necessity of adding milk or sugar which is also great news for lactose intolerant people or those who are diabetic.
INO points the way forward with endless benefits. As well as being extremely healthy and containing just 9.5 calories per serving, our fruit coffee is sugar free, fat free and contains no salt.
It is available as single serve stick packs with a selection of exciting mixes to choose from. These include Apple Coffee, Pineapple Coffee and Strawberry Coffee, which are packed into innovative and convenient packaging. They can be carried either in your shirt pocket or handbag so you will never be without INO.
So far, there has been a huge investment into the project which has been painstakingly developed, researched and approved by a number of first class UK agencies. These include the Engine Group (the UK's leading integrated Marketing communications agency), DCRM (Qualitative research consultancy), HPI (the UK's largest independent research company) and Nielsen Bases (World's top authority on volumetric research).
INO will benefit from both BRC and IFS production standards as well as having official Rainforest Alliance certification which falls within our ethical philosophy and corporate responsibility.
The response to our exceptional product, inventive packaging and quirky brand image received via our website http://INOholics.com/, social media platform and sampling events has been overwhelming.
INO has exciting plans ahead with the exclusive launch through our INO online store and additional online outlets where our products can be purchased. We are also planning the launch of INO into retail stores and supermarkets in October 2012.
Co-Founder of INO, Ali Ataei adds, "UK consumers have witnessed the coffee culture revolution in the coffee shops over the past 15 years and got used to premium quality coffee as a result. In recent times, not only do they want more variety, they also want the same coffee experience with added convenience, whilst enjoying all the same benefits whether in the comfort of the home, office or on the go. Now INO finally has the answer. Our Fruit Coffee has reinvigorated the market thanks to our unbeatable quality, distinctive variety and having the freedom to enjoy your coffee experience at an affordable cost wherever you are".
As an introduction to the coffee world, INO held a highly successful soft launch at the Caffe Culture exhibition, which took place on the 16th and 17th of May at London's Olympia Exhibition Centre.
Ali Ataei the creator of Fruit Coffee concept added "We had a phenomenal response and buzz from coffee shop owners who want to take advantage of this incredible opportunity to serve something new like INO Fruit Coffee in their premises and to sell our funky retail packs at the till to generate extra revenue", he went on to say, "We are organising sampling events over the next few months at London's top shopping malls, public venues and exhibitions across the UK with our unique popup café, where you will be able to sample the exclusive taste of the world's first Fruit Coffee".
There are other ways to connect with the beverage that is really too hot to handle. Just connect on Facebook http://www.facebook.com/INOholics or tweet your thoughts to @INOholics.