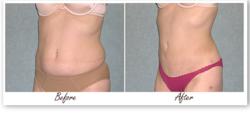 The "Fat Thermostat Principle" affects the lives and shapes of many around the World
San Antonio, Texas (PRWEB) May 29, 2012
Liposuction does not change total body fat, and removing tummy fat tissue with liposuction triggers the Fat Thermostat and an increase in body fat in other areas, according to recent study released in the Journal of Clinical Endocrinology by a team of researchers from Sau Paulo, Brazil.
This new data supports the finding by many plastic surgeons that some women may not see a weight change after liposuction, and instead experience a change in overall body proportions. In this recent study, researchers found that women who underwent tummy liposuction experienced an increase in internal body fat, called "visceral fat", in apparent compensation for the loss of fat in the lower body.
According to Mario Diana, MD of New Day Plastic Surgery Center in San Antonio, Texas "Our total body fat is directly related to a given "setting" of hormone levels, age, dietary choices, and physical activity, and our bodies try to maintain a certain body fat percentage, sort of like an internal "Fat Thermostat"."
According to this new concept, removing fat from one area may cause an increase in other areas, as the body attempts to maintain the "status quo" of its total percentage of body fat.
"We have seen the Fat Thermostat in action for women who undergo large volume liposuction in the lower body and then experience weight gain after liposuction" says Dr. Diana. "In some situations, the increase of fat in the upper body is seen even if the patient's weight remains the same as before the procedure".
Fat tissue is a major player in the balance between energy (or food) introduced, and energy (or food) used for work, and today fat tissue is considered increasingly important in the study of regenerative medicine, with its role as a hormone producing powerhouse now proven to affect the overall balance of health. Where Doctors previously viewed fat as a passive, negative factor, today science views fat as a vital, fundamental tissue essential in the maintenance of health, well-being and youth.
The Fat Thermostat affects the lives and shapes of many around the world and explains weight gain after liposuction. This new concept gives us a better understanding of the balance between excessive fat deposits and body shape to maximize long term body contouring results.
About Mario Diana, MD, FACS
Dr. Mario Diana is the Managing Director of New Day Plastic Surgery Center, in San Antonio, Texas. New Day PSC was founded in 2002 with the mission of providing technically advanced high quality plastic surgery procedures for the breast and body. New Day Plastic Surgery Center is actively involved in clinical research with studies that have been recognized internationally.
Dr. Diana is a Diplomat of the National Board of Medical Examiners, board-certified by the American Board of Plastic Surgeons, Fellow of the American College of Surgeons, the American Society of Plastic Surgeons and the International Society of Plastic Regenerative Surgeons.
Dr. Diana can be contacted online via the websites newdayplasticsurgery.com, on Facebook at /NewDayPlasticSurgery or Twitter @NewDayShape