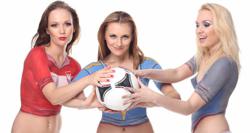 Football, just better loooking.
Kyiv, Ukraine (PRWEB) May 29, 2012
Italy is the winner of the Euro 2012 football championship. That's at least what a Facebook poll determined - and Miss Italy is the third girl besides Miss Poland and Miss Ukraine to be honoroured in a body art painting organized by Kyiv.com.
The photo gallery (http://www.kyiv.com/euro-2012/body-art.html) shows how beatiful football could be.
"Ukrainian girls looking forward to Euro 2012" is the topic of another photo shooting by Kyiv.com. The all-female team behind the website posed in Ukrainian natioanl football uniforms on Maydan square, the very center of Kyiv. Definitely better looking than the official Ukrainian team and more likely to win a place in the hearts of football fans worldwide, too.
http://www.kyiv.com/euro-2012/euro-girls.html
The Euro 2012 Football Championship will be the 14th European Championship for national football teams organised by the UEFA. The tournament will be hosted by Poland and Ukraine between 8 June and 1 July 2012. The final game will play in the Ukrainian capital Kyiv.
Media and bloggers can request high resolution, watermark-free images at no cost, only proper attribution is required.