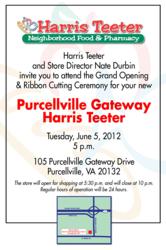 Charlotte, NC (PRWEB) May 28, 2012
Harris Teeter is proud to welcome its brand new Purcellville Gateway Harris Teeter on June 5, 2012 and is celebrating the grand opening with a ribbon cutting ceremony and weekend activities to introduce community members to the HT Difference.
Harris Teeter was established in 1960 when two North Carolina grocers merged operations. What was once a 15-store chain with locations in North Carolina is now a regional grocer with over 200 locations in eight states and Washington, D.C. In each of its locations, including its newest store in Purcellville, Va., Harris Teeter strives to offer customers an excellent shopping experience on every visit. An excellent shopping experience starts in the store with customer service, high-quality perishables along with variety and selection. To celebrate the grand opening of the company's 209th store, therefore, Store Director Nate Durbin will cut the ribbon and invite shoppers inside to meet the management staff and shop the brand new facility.
The Purcellville Gateway Harris Teeter will feature various sustainable, energy-efficient designs and practices. Shoppers will notice motion detection lighting, LED lighting in cases, as well as doors on medium temperature cases in both the Farmers Market and Butchers Market and water-saving devices on all hand sinks.
The new Harris Teeter will also feature a salad bar, Asian bar and cheese kiosk as well as a pharmacy.
Fast Facts:
Store Address:
Purcellville Gateway Shopping Center
105 Purcellville Gateway Drive
Purcellville, Va. 20132
Grand Opening Date:
Tuesday, June 5, 2012
Grand Opening Hours:
5 p.m., ribbon cutting
Store open for business 24 hours
Square Footage:
53,526
Check-Out Lanes:
Nine checkouts and four USCAN checkouts
Features and Departments:
Full-service Meat Department with Rancher Beef, HT Reserve Angus Beef and HT Naturals Natural Beef • Full-service Fishermans Market • Shrimp Party Trays • Farmers Market Produce • Full-Service Floral and Custom Floral Arrangements • Produce Party Trays • Gift Basket Program • Full-service Fresh Foods Market Deli/Bakery • Sushi • Self Serve Olives • Salad Bar • International Cheeses • Chef Prepared Foods to Go • Custom Cakes • Hot Asian Bar • Sub Shop and Made-to-Order Sandwich Program • Fresh Made Salads • Pizza Bar • Party Trays • Boar's Head Meats & Cheeses • Slicing Meats & Cheeses • Italian Meat Selection • Artisan Breads • Rotisserie Items • Organic, Natural and Specialty Foods • Wine, Wine Consultant and Imported Beers • Pharmacy • Western Union • Coinstar • Red Box DVD Rental Kiosk • Double Coupons • Club 60 Senior Discount • Carryout Service • USCAN • Express Lane Online Shopping • Sit-down eating area featuring 30 seats
About Harris Teeter
Harris Teeter Inc., with headquarters in Matthews, N.C., is a wholly-owned subsidiary of Harris Teeter Supermarkets, Inc. (NYSE: HTSI). Harris Teeter is the 24th largest supermarket in the U.S. with 2011 sales of $4.29 billion. The regional grocery chain employs approximately 25,000 associates and operates stores in North Carolina, South Carolina, Virginia, Georgia, Tennessee, Maryland, Delaware, Florida and the District of Columbia.