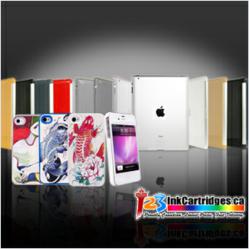 Montreal, Quebec (PRWEB) May 28, 2012
It was just announced by officials from 123inkcartridges.ca that they will be including Apple iPad 2 screen protectors in their line of products.
123inkcartridges.ca is a Canadian based company whose online store provides printer and computer related products to customers at reasonable prices. The growing company just expanded their line of products to include Apple iPad 2 screen protectors.
The online store 123inkcartridges.ca is one of the leading providers of printer and computer supplies. The products can be ordered from the online store and then the company ships the products to various locations in the United States and Canada. Recently, the company has continued increasing product lines and started carrying many different products including Apple iPad 2 screen protectors.
The company is based in Montreal and has two office locations along with facilities which house their lines of products with which they fulfill customer order obligations. They have a full time customer service staff who are prepared to assist each customer so that they have a pleasant online shopping experience. Staff personnel are prepared to assist customers in completing their orders easily and quickly. They can order from a wide variety of products which are available at very low prices. Recently the company continued expanding product lines to meet the growing customer demand. Apple products have been among some of the most recent additions and this includes the Apple iPad 2 screen protectors.
The online store can be accessed at http://www.123inkcartridges.ca/accessories/iphone-&-ipad-accessories.html. Customer may look through the wide variety of products available. Knowledgeable support staff can assist customers 24/7 so that they can find the products they need at a price they can afford.
About 123inkcartridges.ca
The company had humble beginnings as an online supplier of printer supplies such as toner and ink. The company quickly grew to be one of the premier online stores of its kind. Recently due to customer demand and company growth it began to expand to include more computer and printer related products in the line of products. They have two offices located in Vancouver and Montreal with other facilities which house the huge lines of products. The company's commitment to their customers is to provide high quality products at affordable prices.