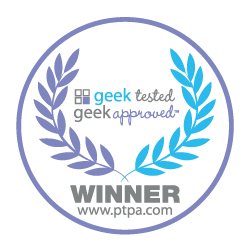 "I'm thrilled to partner with PTPA Media on their tech-focused campaigns," says Tech expert Marc Saltzman.
(PRWEB) May 29, 2012
With summer just around the corner and so many great new tech products on the market, how does a family choose which is best for them? It's not easy to decide, but PTPA Media together with Marc Saltzman, are here to help make technology purchasing decisions easy.
PTPA Media is North America's largest parent tester community – a credible third party resource for parents with over 40,000 volunteer parent testers. PTPA is proud to join forces with Marc Saltzman, one of North America's most recognizable tech experts specializing in consumer electronics, internet trends and interactive entertainment as well as the author of 15 books. He also contributes to nearly 50 high-profile publications in Canada and the U.S.
"I'm thrilled to partner with PTPA Media on their tech-focused campaigns," says Saltzman. "I was honoured to be a judge and I enjoyed seeing how other Canadian families also rated these tech products. I'm certain the winners will benefit from the prestigious PTPA seal, which serves as a coveted endorsement many parents look for before buying new products," adds Saltzman.
"Seeing the PTPA Winner's Seal on a product package or website helps consumers identify products that have been tested and recommended by their peers. It's like shopping with your best friend," says PTPA Founder and CEO, Sharon Vinderine.
Since 2008, PTPA has evaluated thousands of products and services from leading manufacturers and emerging brands. Parents evaluated these products in their own homes and this allows for PTPA Award-winners to be selected based on merit as well as consumer experience, rather than just commercial considerations.
PTPA Media is a well-known and trusted source by media for credible and reliable recommendations for their audiences. Recognized TV personality, PTPA Founder and CEO Sharon Vinderine has presented PTPA Award-winners on over 50 morning shows including the Rachael Ray Show, Fox and Friends, Canada AM and Global and has been featured in the National Post.
PTPA together with Marc Saltzman are pleased to announce the latest round of products to receive the PTPA Winner's Seal of Approval for their 2012 Tech It Up II campaign:
Nokia Lumia 710: Socialites love how this phone keeps them connected when they're on-the-go. This Windows phone offers a superior performance for online browsing with IE 9. Users will have several impressive features such as access to thousands of apps, a 5 MP camera, one-touch image sharing and access to cloud storage.
Norton 360 v6: The industry's most comprehensive protection to stop digital dangers without sacrificing performance. This all-in-one security suite provides real-time threat detection to guard against online threats and automated set-it-and-forget-it backup for precious files. It even automatically tunes up the computer to keep it running well. It's an excellent choice to keep your family safe.
iRobot Roomba 770: Tackle the mundane household chore of vacuuming the modern way: Let the iRobot Roomba do it all! It's packed with technology to ensure a clean floor, free from dust, dirt and pet hair.
Disney's Tangled: StoryBook Deluxe: Transform the iPad, iPhone or iPod into a dynamic storybook for kids. They can listen to the narrated story, read it on their own, record their voices, watch the animations and play interactive games and puzzles.
Hasbro Canada's THE GAME OF LIFE zAPPed Edition: The game board together with the free app combine to create an interactive family gaming experience like never before. Players love to now customize their peg characters and add peg-sessories.
Sony Full HD Camcorder with Built-in Projector: Loaded with features that let families capture more activities and memorable moments that are sharp and with brilliant, accurate colours. Watch videos on HDTV or on any flat surface with the built-in projector and stereo speakers.
Olympus Tough TG-820 iHS: The perfect 12 MP camera for the active family. It's waterproof, shockproof, freezeproof, crushproof and dustproof. It's a point-and-shoot camera that's perfect for vacation or home use that's packed with the latest technology for excellent quality photos regardless of light or weather conditions.
Monster iSport: Music provides motivation during workouts to train longer and push harder but when earphones are falling out or won't fit with gear or need to be washed, what is an active person to do? Grab these water proof, super comfortable, in-ear speakers for the next workout.
To view more award winners, visit the Electronics section on PTPA's newly updated website.
About PTPA Media Inc.
PTPA Media provides an objective framework for appraising and promoting new products designed to enrich family living. The company's mission is to marry innovative companies with discerning consumers, to improve consumer access to quality products and services for their families and homes.