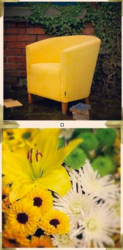 The twist of the competition is that instead of entering and winning a beautiful bouquet of flowers for yourself the entrant instead nominates someone they know who they feel could do with a bit of cheering up from a sunny bouquet of flowers
(PRWEB) May 30, 2012
Indigo Furniture are celebrating the launch of their new Yellow Tub Chair by joining forces with the online florist Bunches.co.uk to spread some sunny cheer to lucky competition winners.
The competition will see 5 lucky people winning a Lemon Drizzle Bouquet from Bunches.co.uk, one of the newest additions to their fantastic range of mail order bouquets. The vibrant bouquet is filled with yellow and white flowers including Chrysanthemums, Germini and Solidago amongst various other flowers as well as being topped off with a bright and sunny yellow Asiatic Lily.
The twist of the competition is that instead of entering and winning a beautiful bouquet of flowers for yourself the entrant instead nominates someone they know who they feel could do with a bit of cheering up from a sunny bouquet of flowers. This may be because they are unwell, having a bit of a rough time or someone simply wants to thank them for being a good friend. Indigo Furniture and Bunches are working together to try to spread some cheer just how their bouquets and furniture already do!
To enter all entrants have to do is visit the indigo Furniture Facebook or Twitter page and nominate the person that they think deserves the bouquet and tell Indigo why. Entrants will then be picked by random and the winners will be notified.
The link up between Indigo Furniture and Bunches is the most recent of collaborations that Indigo Furniture have had with famous British companies that fly the flag for Britain and its fantastic businesses. Just as Indigo Furniture built itself up in the spa town of Matlock in the Peak District, Bunches.co.uk have done the same in Mansfield. Founded in 1989 as a family run stall in the Mansfield shopping centre the 23 years since have seen it turn into a national mail order company who have sent over 3 million bouquets.
Indigo Furniture have experienced the same success growing into a thriving online furniture retailer whose pieces now appear in homes around the country as well as locations around Europe.
The competition is running until the end of May so if you know someone who deserves a bouquet then nominate them quickly!