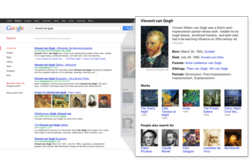 "Trying to understand all the world's information, catalogue all the human knowledge, the challenge was making it rich and intelligent. By tying our concept into [Google] search, we did it," John Giannandrea, creator.
UK - (PRWEB UK) 30 May 2012
London: Google has transformed the way we use the internet, growing to nearly-complete dominance over the search market. The introduction of Knowledge Graph enables Google to understand whether a search for 'Mars' refers to the planet or the confectionary manufacturer. Amit Singhal, Google's senior VP of engineering, said: "Search is a lot about discovery – the basic human need to learn and broaden your horizons".
Knowledge graph is the result of a 15-year revelation by John Giannandrea, who imagined a virtual catalogue of 'everything in the world'. "Trying to understand all the world's information, catalogue all the human knowledge, the challenge was making it rich and intelligent. By tying our concept into [Google] search, we did it," the 47 year-old said. The Knowledge Graph uses approximately 3.5 billion different attributed to organise results. This allows Google to provide specific summary boxes on results related to prominent individuals. "The information we show for Tom Cruise answers 37 percent of next queries that people ask about him," commented Amit Singhal on the Google Search Blog.
Although Knowledge Graph currently just affects U.S. –based users it has the capacity to transform search results. Knowledge Graph is available on desktop, tablet or smartphone, here are five interesting features:
1.Discover live or cultural events – By searching a venue, Google search finds what events are happening at venues near the 'searcher'. Also, by searching a particular band Google knows when and where they are next performing, prioritised by location.
2.Find recommendations for music, books, TV and movies – Similar to Amazon's feature Google now hosts a "people also search for" feature for recommendations on likewise alternatives. Google only lists five suggestions, however occasionally suggests new options to explore that fall within the particular genre. This Google feature also provides information on particular writers / authors / directors if clicked on in the search box.
3.Locate the closest service provider (i.e. Italian restaurant, dry cleaners) - Type in the required service provider and Google uses the location to include a map alongside the information. This search tool is also specific to brands, such as Starbucks.
4.Know the must-see attractions when travelling - Google recommends five top places of interest for each destination. Some suggestions are the more obvious choices, i.e. Eiffel Tower, but by clicking on each link provides the map, address and phone number – very handy.
Find out the time for different cities – Finally, find out what time it is in Cairns, Hong Kong, Bursa or any other city by simply typing it into the unibar.
5.It is predicted that Google will gain a monopolistic position in online search as the company attempt to recapture the intellectual high ground in an area where it remains strong. "Websites will have to move further up the value chain in order to survive," says Singhal. Public opinion will be shaped by which factoids Google publishes in response to common searches. The question is the world ready for this?
AppsCare®, Google Enterprise Premier Partner is a world leader in cloud services provisions, supporting over 2500 customers in 33 countries. AppsCare® comprise 10+ years' experience deploying technical solutions for organisations of all sizes and geographies utilising their GStall delivery methodology and AppsCare® support programmes. Their fortnightly newsletter provides latest industry news, tips and 'how to' features and useful information about Cloud computing, to subscribe to the mailing list click here.