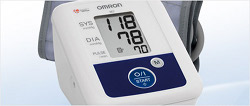 Many people with high blood pressure don't know that they have the condition.
London, UK (PRWEB UK) 29 May 2012
High blood pressure is a potentially serious health condition that causes a person's heart to work harder than it needs to in order to pump blood around the body. This ultimately places strain on the arteries as well as the heart and can lead to heart attack, stroke or even kidney disease. Many people with high blood pressure don't know that they have the condition, because it does not usually cause any symptoms. However, once it's diagnosed, the condition can be effectively managed with the help of lifestyle changes and, if necessary, hypertension medication.
A person's blood pressure is a measurement of how much pressure blood is exerting on the artery walls and can be measured with the help of a blood pressure monitor. Blood pressure readings are most commonly taken in a doctor's surgery, but it is also possible to use a home blood pressure monitor, allowing for more regular readings. Home-based blood pressure monitoring is also beneficial for many people who experience white coat syndrome, which is when the blood pressure is elevated in a clinical setting.
In order to help their patients monitor their blood pressure, the online clinic HealthExpress is offering a free automatic blood pressure monitor to patients who order a 6 month course of high blood pressure medication. Those who have been diagnosed with high blood pressure can order the medication they need at HealthExpress, which offers a range of high blood pressure medications including Amlodipine, Bendroflumethiaze, Lisinopril, Ramipril and Sevikar HCT. A simple and free consultation is included in the ordering process in order to ensure patient safety and their suitability to their selected medication.
HealthExpress Company Information
HealthExpress is an online clinic specialising in providing treatment, support and advice for common embarrassing medical conditions and lifestyle problems. Launched in 2002, they provide their patients with a discreet, confidential and secure way to order prescription medication online by completing a free online consultation with a registered doctor.
For more details, visit the website at http://www.healthexpress.co.uk/ or contact HealthExpress on 020 7084 7594 or via email.
HealthExpress is a brand name of Hexpress Healthcare Ltd, 138 – 140 Mitcham Road, London SW17 9NH