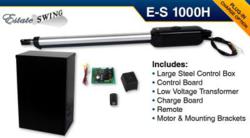 No one likes to fumble around in close spaces. This box provides that space; it just makes the install go so much faster.
Tampa, Florida (PRWEB) May 29, 2012
Utilizing direct surveys and feedback from industry customer relations companies like GateCrafters.com; Estate Swing brand responded with the additional of a large steel control box for the E-S 1000 series gate opener. This has proved lucrative, DIY sales of this series are persistently climbing however a large jump has also occurred on the professional end. Gate Crafters believes this is due to the fact that installers have always equated room to work inside the control box with the speed the job can get done.
The large control box design is used in some of the other higher price tag gate opener lines that GateCrafters.com carries, such as Apollo. However the Estate Swing 1000 series is popular because of its market friendly price tag, and now has one of the long sought after features of the high end gate operators. Bill Anthony, customer relations in the gate opener industry since 2003, affirms, "One of the biggest complaints I get from both professionals and homeowners alike is they want more room to work with inside the control box. No one likes to fumble around in close spaces. This box provides that space; it just makes the install go so much faster."
In addition to more working room, the larger gate opener box accommodates a larger battery. Solar powered automatic gates have gained significant popularity in the past decade. With this advancements and understanding of power supply needs have been recognized across many manufacturers. Solar operation is dependent on having a battery to store the power for operating the device; not the solar power itself providing direct power. A larger battery means having a greater source of power for the device to operate from.
The steel box design is a departure from Estate Swing's traditionally Italian inspired motif of slim and stylish. However, Estate Swing in response to this, states, "Functionality is first and foremost on our mind when designing a product. We feel that although the large steel box is does not have the curves of some of our other products that the location of many of the installations of this gate opener actually lends to the box fitting in. Many times an automatic gate in a solar set up is in a ranch type of situation; in this case a black powder coated steel box is just what the landscape calls for."
For additional information on distribution of the Estate Swing E-S 1000D or 1000H, contact David Rivera at Estate Swing, a brand of Sequoia Brands, Inc. For retail purchase visit http://www.gatecrafters.com, http://www.amazon.com or http://www.sears.com.
About Sequoia Brands, inc:
Sequoia Brands, inc. is a Florida corporation that owns and manages multiple specialty brands including Estate Swing gate automation and access control equipment.