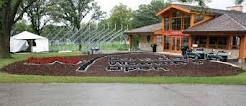 Enviro Mulch will enhance landscapes allowing you to bring exciting new dimensions of color and creativity to yards and gardens
Winnipeg, MB (PRWEB) May 29, 2012
Canadian wooden pallet and skid manufacturer and recycling center St. Boniface Pallet is helping make the earth a little bit greener with their new product line called Enviro Mulch Wood Chips. An environmentally friendly blend of unrepairable wood pallets and scrap wood waste, Enviro Mulch is a long-lasting mulch designed to enhance and protect any landscape. With a variety of colors available, St. Boniface Pallet hopes the new product will not only help homeowners and landscapers, but the environment as well.
"It is an easy way to add beauty to any natural setting," says a company representative. Trees, plants and gardens will thrive as Enviro Mulch slowly bio-degrades to become rich top-soil. And more and more landscapers and gardeners are turning to Eco-friendly alternatives like Enviro Mulch for a variety of applications.
"Enviro Mulch will enhance landscapes allowing you to bring exciting new dimensions of color and creativity to yards and gardens," states the company. "Colored mulch is a low maintenance and decorative way to complement any landscape, commercial or residential." The company has designed a brochure on their website to help explain the benefits.
St. Boniface Pallet is proud of their environmental stewardship and the cornerstone of this commitment is to ensure that no reusable wood waste is sent to landfills. As a continuation of this ongoing dedication, the company says it is happy to announce that they will be offering Enviro Mulch and firewood in addition to an array of professionally made pallet and skid products. Enviro Mulch is available now and the firewood is available in Winnipeg for pick up in the "Free Firewood" area accessible 24 hours a day, 7 days a week.
St. Boniface Pallet Company is one of Canada's largest and most respected pallet companies also offering recycled pallets, pallet recycling services, IPPC heat treated products, Enviro Mulch and more. They service a diverse customer base throughout Manitoba, Saskatchewan, Western Ontario and the Midwestern States. St. Boniface Pallet Company works with many of North America's most respected companies to ensure their products are being handled and transported in the most cost effective and efficient method possible. To learn more about Enviro Mulch, pallet recycling and other products and services visit StBPallet.com.