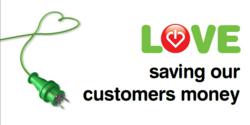 Compare business electricity prices at www.loveenergysavings.com
Bolton Manchester (PRWEB UK) 29 May 2012
In the last six months Love Energy Savings an energy price comparison company based in Bolton has doubled it headcount in staff and excelled in providing services (cheaper energy quotes) to the UK for both domestic and business users. Love Energy Savings now intends to increase its workforce further and is looking for talent in Bolton.
Love Energy Savings are offering fantastic opportunities for experienced Sales Executives to join the expanding Bolton based Utilities Energy Comparison Business earning a salary of £20000 (plus achievable commission, incentives and bonus). The successful candidates will join a company that has dramatically increased in size in recent years and boasts massive expansion plans for 2012 and beyond.
This business is definitely going places and is looking for people to join its existing team to develop and grow with the company. The management teams are forward thinking, supportive and believe in investing in training and development for staff. Employees will be given everything they need to excel in this position and build their career. The job is based in an open plan office and the new recruits will work as part of a driven and self-motivated sales team.
The new recruits will be responsible for converting hot leads from internal and external sources from online to inbound by making savings on commercial utility bills. They will establish contract renewal dates for business' utilities with a view to saving them money and converting to a utility supplier offering better value.
Each member of the team will aim to make 100-150 calls a day and they will be working to sales targets on a weekly basis. All leads are fully verified and cleansed before they are received by the Sales Executive.
The atmosphere in the office is very energetic! It is a really fast paced and sales-driven environment Love Energy Savings are looking for someone with the same drive and motivation to fit in with the rest of the team. For more information regarding roles at Love Energy Savings please e-mail hr-recruitment(at)loveenergysavings or call 08000932791.