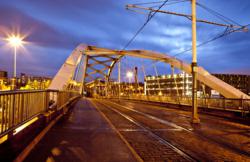 Sheffield has always been a great city of entrepreneurship, industry, and start-up innovation
Sheffield,UK (PRWEB UK) 29 May 2012
With 291 new companies formed in Sheffield in 2012, this is the best ever April performance for the city according to figures from the register of companies at Companies House, collated and analysed by formations agents Duport.co.uk.
This new record beats the previous high by of 265 by some 11%, a record that has held since April 2008, before the UK had fallen into recession.
Peter Valaitis, Managing Director of Duport.co.uk stated: "Sheffield has always been a great city of entrepreneurship, industry, and start-up innovation - and with a new record for April formations, the city looks set to thrive in 2012."
Sheffield is also the home of the MADE Entrepreneur Festival, which will be held from the 19th to the 22nd of September 2012 in 10 different venues across the city.
MADE is the UK's biggest festival for entrepreneurs, and has dedicated the 3rd day of the event to supporting and encouraging small and medium sized businesses to consider the benefits of exporting.
With a speakers and events including the Business Secretary Vince Cable and Dragons' Den star Peter Jones, the festival hopes to host a wide range of visitors from new business owners to inventors, manufacturers, investors and established entrepreneurs.
This is the third time the MADE Entrepreneur Festival will be held in Sheffield, which is testament to the city's positive attitude towards business.
Sheffield is a city that has always been at the forefront of innovation, and with new records for new company formations in April 2012, this is a positive sign for more success from its small business community in the future.
Duport.co.uk is a leading UK company formation agent, operating in the UK for around 15 years. Duport registers around 10,000 new companies each year using its Companies House approved software. The Company Register which is maintained by Companies House contains public information about Limited companies and directors.