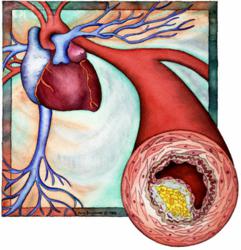 I know that heart disease and stroke are the leading causes of death of men and women, therefore we want to make a change and have people truly understand their risk and stop cardiovascular disease
Calgary, AB (PRWEB) May 30, 2012
A special test that the Heart Fit Clinic have brought to Calgary, Alberta, for the first time is the Carotid Intima Media thickness test. This test helps screen for strokes and heart attacks before they occur. More than half of heart diseases occur without any past symptoms and death is most often the resultant cause even after the first attack.
The Carotid IMT test is recommended by the American Heart Association and the American College of Cardiology for all people above the age of 40, particularly individuals who are healthy. This test helps doctors and patients keep up to date about any heart problems they may be having or they may develop in the course of the future. Though the test is not readily available in Canada, the Heart Fit Clinic provides this test as part of their screening process for heart disease. Once the patient risk is assessed they have a cardiac rehabilitation program to then reverse heart disease.
The test literally tells people the age of their arteries and their heart. It looks at the outer two layers of the arteries' walls and if then the thickness of these walls is greater than what it should be at the patients given age then it means that the patient is at risk of heart illness. The test is safe, without any pain and is not invasive without any radiation. "I know that heart disease and stroke are the leading causes of death of men and women, therefore we want to make a change and have people truly understand their risk and stop cardiovascular disease," says Diamond Fernandes, founder and director of the Heart Fit Clinic.
The Heart Fit Clinic is the leaders in cardiac rehabilitation and heart attack and stroke prevention. They are a Calgary private health clinic focusing on elite cardiac care. It is hard for doctors and government programs to provide individual patients require to be a success with heart disease or even preventing heart attacks and strokes. "It was a severe heart attack and they (doctors) told me to take it easy, it confused me and it was discouraging. I found the Heart Fit Clinic and they outlined a program for me that I can do safely and effectively," says Mr.Bart Dailley, patient at the Heart Fit Clinic. They provide hope to patients and provide care and attention to ensure heart health success.
Heart disease and stroke are the leading causes of death of men and women in developed countries, and the number one preventable disease. Most times the first symptom is death. People don't get a second chance. It is important to have people understand their risk and prevent and reverse heart disease.