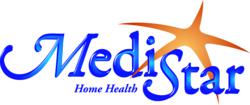 I applaud the foresight of Medistar's leadership team for championing its electronic medical records (EMR) system nearly five years ago.
Baton Rouge, LA (PRWEB) May 29, 2012
Medistar Home Health announced today that it has joined the Louisiana Health Information Exchange (LAHIE) as its first post-acute care provider. LaHIE is the state's exclusive mechanism that allows for the secure exchange of health information among authorized providers and across Louisiana's health care system to help improve patient safety, quality of care and health outcomes.
"I applaud the foresight of Medistar's leadership team for championing its electronic medical records (EMR) system nearly five years ago and its determination to join LaHIE to deliver excellent care with optimal outcomes," noted Louisiana Health Care Quality Forum Executive Director Cindy Munn. "The company's mission closely aligns with that of the Forum as well as LaHIE."
Hospitals and physicians must achieve "Meaningful Use" of EMR in order to comply with the HITECH (Health Information Technology for Economic and Clinical Health) provisions of the American Recovery and Reinvestment Act of 2009. Meaningful Use Stage 2 criteria focuses on how healthcare facilities and physicians can securely exchange key clinical information about patients. LaHIE and its participants are well ahead of many other states in the nation in establishing a comprehensive secure exchange network, which will also eventually include pharmacies, labs and other post-acute care providers.
Medistar's President and CEO, Beth Denton, commented that, "The use of health information technology and reducing unnecessary rehospitalizations are two major initiatives aimed at improving health in the United States today. With these goals in mind, Medistar integrated EMR into its nationally recognized, award-winning processes and management five years ago. I believe that our experience in securely sharing vital health records from our point-of-care devices with participating physicians was a factor in our being selected by LaHIE as an early participant. We are extremely honored that LaHIE selected Medistar as its first post-acute care provider and look forward to working closely with other healthcare providers in the Exchange as together we transform the way healthcare is delivered and managed one patient at a time."
About Medistar Home Health 
Medistar Home Health is a nationally recognized Medicare-certified home health agency, a member of the National Hospital to Home Quality Improvement Initiative, a Premier and Gold Participant in the Home Health Quality Improvement National Campaign and received the Home Health Quality Initiative's Best Practices Early Adopter and Gold Medal Awards. Medistar Home Health has been serving Louisiana patients in the familiar surroundings of their homes since 1983. "Our mission is to make a positive difference in the lives of our patients, our healthcare partners, and our valued employees as we provide superior quality and passionate care, while adhering to the highest standards of excellence." To find out more, visit http://www.medistarhomehealth.com.