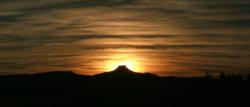 Portal, Arizona (PRWEB) May 29, 2012
Naturalist Journeys announces a bold tour, one that plays on the juxtaposition of art and science, in a compelling landscape full of natural wonders. Entitled "New Mexico: Geology in the Land of Georgia O'Keeffe," the itinerary is one crafted by its PhD geologist-guide Kirt Kempter. Naturalist Journeys' founder Peg Abbott says, "We've been operating in New Mexico and throughout the West for fifteen years and this is has to be one of our most innovative tours to date. On our pilot trip last fall, I was just amazed to stand there with one of O'Keeffe's prints in my hand, looking at the landscape from the very spot she painted it, learning in detail how that landscape came to be. Kirt is a master, and he made geology understandable; yet with all that science, he obviously revered the beauty of her art. On a scale of 1-10, I'd have to give Kirt and this one a 10!"
The O'Keeffe tour, October 7-14, 2012, departs from Albuquerque and is limited to 12 art and landscape-loving travelers. Walking the landscapes that inspired O'Keeffe, travelers will learn about plate tectonics and how this theory explains the landscape of modern New Mexico. The colors and creative elements of dynamic Earth processes will become clear with geologic explanations, and appreciation for O'Keeffe's art will grow from viewing both her favorite places and the bold paintings she created from them.
While in O'Keeffe country, a foundation for the tour's theme is set in Santa Fe, with time to see O'Keeffe's work at several museums, to explore the famous plaza, and to enjoy Southwestern cuisine. The tour then includes visits to the ancestral puebloan ruins in Bandelier National Park, with fine petroglyphs and cave dwellings, and continues to Abiquiu for a visit to O'Keeffe's home. Many of her paintings were done close to Abiquiu. Pedernal, a stunning high mesa, perhaps the most recognized landmark of northern New Mexico, is seen from several angles. Explaining her fondness for Ghost Ranch and Northern New Mexico, in 1943 O'Keeffe said "Such a beautiful, untouched lonely feeling place, such a fine part of what I call the 'Faraway'. It is a place I have painted before . . . even now I must do it again."
Home base for three nights of the journey is the delightful Abiquiu Inn, where sculptured cottonwood trees stand aflame with color, and arch over the drive. Located on the banks of the Chama River, quiet surroundings let one ponder the intrigue of O'Keeffe and the iconic landscapes she treasured. The Georgia O'Keeffe Foundation is located next to the Inn, providing tours of her Abiquiu home and studio.
Naturalist Journeys describes this journey as a "sampler," with time spent in nature, at museums, and sampling local cuisine, and with stops for travel photography. The full itinerary, and a biography for the guide, can be found on their website. Fascinating landscape photos can be found on Geomosaics, guide Kirt Kempter's website for rock and landscape photography.