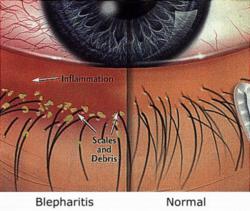 This condition, if chronic, can't be cured and may actually worsen over time.
Winnipeg, MB (PRWEB) May 31, 2012
For years, ophthalmologists have had to break the bad news to patients: You don't have recurring pink eye infections, you have blepharitis. Blepharitis is a painful eye condition which causes severe inflammation of the eyelids. Many people mistake chronic (long-term) blepharitis as recurring pink eye infections. It typically occurs through a buildup of oils and bacteria found on the skin, causing redness, swelling, and itching. Untreated blepharitis can lead to loss of eyelashes, the formation of styes, and even scarring. But online eye care store RestorEyes.ca is offering people suffering with the condition an easy-to-use blepharitis treatment - a complete care kit available directly online.
This condition, if chronic, can't be cured and may actually worsen over time. The only option ophthalmologists have is to ease the symptoms of those who suffer from blepharitis. Traditional therapies included prescription antibiotics and eyelid scrubs. While successful on the whole, this form of treatment left the patient to their own devices when it came to finding shampoo, washcloths, and sterile gauze for cleaning the eyelids, some of which aren't always effective in treating the symptoms of this condition.
"Blepharitis treatment is undertaken through proper hygiene of the face, hands, and scalp combined with a heated compress applied throughout the day on a daily basis," says a representative of RestorEyes.ca. "This works to soften the oils that cause the frustrating and painful condition." This treatment is now one of the past. Patients no longer have to wait at the doctor's office for an expensive prescription. They can now take their blepharitis treatment into their own hands with the RestorEyes Blepharitis Treatment Kit, which offers an all-in-one treatment for painful blepharitis symptoms.
The kit is designed to bring relief to both acute and chronic blepharitis sufferers, including a set of goggles designed to create a soothing environment for the cornea, where the evaporation of natural and artificial tears is reduced. The goggles block out all light and use medical grade, FDA approved rubber padding that is soft on the delicate area surrounding the eyes. The RestorEyes Blepharitis Treatment Kit also includes a foaming eye cleanser which is pH balanced to protect the natural tear film of the eye and contains natural soothing agents and cleansers such as essence of Tea Tree, Chamomile, and Shea Butter. Calming gel packs and bead packs are also included, along with a netted bag for washing the goggles and a clear zippered bag to keep everything in one place.
RestorEyes is a Winnipeg, Manitoba-based online eye care store specializing dry eye treatment, blepharitis treatment, and much more. The RestorEyes treatment for blepharitis is available without a prescription online, so sufferers can order from the comfort of their own home. For more information, visit RestorEyes.ca