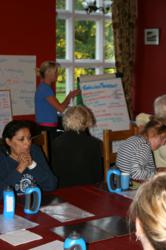 Mind Coaching Workshops
(PRWEB UK) 28 May 2012
FitFarms opened their doors to the public in the winter of 2006.
The company has seen an enormous amount of guest go through their weight loss boot camp doors all looking to kick start a healthy new lifestyle.
There is a whole new market out there which FitFarms will be entering called UK fitness holidays.
The nutrition programme will have more calories than the usual FitFarms weight loss retreat courses to help with the intensity of the exercise programme.
They will be using the same french FitFarms chef Anthea De La Roche who has designed the recipes.
Anthea and nutritional therapist Lesley works closely together to provide a nutritionally balanced but also tasty menu.
The activities will include mountain biking, swimming, boxercise and many more high intensity exercises devised to increase fitness levels rapidly.
The fitness holiday course will also include the FitFarms after care programme which will be more directed towards fitness than weight loss.
Gillie Sutherland the companies life coach and motivator will be developing and then monitoring the after care programme.
The programme will monitor behaviour therapy, nutrition and fitness. Guest will test themselves and write results into a diary room.
Gillie will be watching and recording the results after the weight loss boot camp week. If a guest needs further encouragement the fitness team will step in and re motivate the client.
The fitness holidays will also be in the UK and overseas. FitFarms is looking at Spain in a high mountain range.
The mountain range is just outside Granada with spectacular views and will make the hikes very tough work.
FitFarms will be advertising the dates soon on the website and expect to see a special offer for the launch week.
The weeks will be extremely popular and FitFarms is expecting the courses to fill up with guest looking to improve their fitness levels in spectacular surroundings.