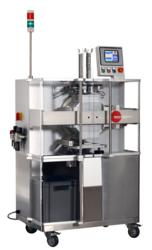 Because we are focused on the needs of the pharmaceutical industry, Sepha's inspection products can be easily integrated into our clients demanding standard operating procedures. [Paul Kelly, Head of Sales and Marketing at Sepha]
Belfast (PRWEB) May 30, 2012
The major process industry forum and technology summit, Achema, will be the venue for the launch of two new quality control machines from the pharmaceutical packing machinery manufacturer, Sepha. The first machine, Blisterscan utilises non-destructive, laser technology to detect small defects in blister packs down to 7 micron, with objective results being captured for each individual blister pocket. Blisterscan tests multiple blister packs in a single cycle, and will form part of a 21 CFR Part 11 compliant system.
"With the launch of new Blisterscan, Sepha now has the most extensive range of pharmaceutical blister pack inspection systems in the world. In the last year we have seen a significant increase in demand from pharma manufacturers wanting to drive costs down and quality assurance levels up. Because we are focused on the needs of the pharmaceutical industry, Sepha's inspection products can be easily integrated into our clients demanding standard operating procedures," said Paul Kelly Head of Sales and Marketing at Sepha.
Sepha is the global leader in pharmaceutical deblistering and tablet recovery equipment. The launch of an updated Press Out Universal will once again set the trend in product recovery. Since launch of the original machine over 5 years ago, Press Out Universal, has become the global standard within the pharmaceutical market for the non-destructive recovery of tablets from blister packs. It is an automated deblistering machine capable of deblistering tablets from peelable and child resistant blister packs, at speeds of more than 50 blisters per minute. Upgrades to the machine include a new user friendly HMI interface, faster set-up times, and improved blister pack feed mechanism.
The full Sepha range including Blisterscan and Press Out Universal will be available for demonstration at Achema, 18-22 June, Hall 3.0 Stand J56. To book an appointment contact marketing(at)sepha(dot)com.
SEPHA has been at the forefront of innovation since pioneering deblistering for the pharmaceutical industry in 1980. Today Sepha offers the most complete range of deblistering and leak detection machines anywhere in the world, covering all pharmaceutical blister applications.