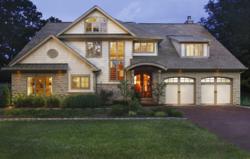 Replacing an older garage door with a new, energy efficient model can reduce energy loss through the garage by up to 71%.
Cincinnati, Ohio (PRWEB) May 30, 2012
Residential garage door manufacturer Clopay is re-engineering its popular Coachman Collection steel and composite carriage house door to meet the needs of homeowners in search of a durable, energy efficient garage door uniquely designed to enhance the curb appeal and value of their homes.
The company is adding a 2" thick polyurethane insulation option with an R-value of 18.4. Polyurethane insulation delivers twice the thermal performance of polystyrene insulation of the same thickness. It also adds strength and rigidity to the door panels to reduce noise and resist dents.
The Coachman Collection mixes old world charm with modern technology to provide a low-maintenance alternative to wood carriage house style garage doors.
The doors replicate historic, swing out carriage house door styles but operate with the convenience of an automatic overhead opener. Fifteen models with optional windows, decorative hardware and four paint colors are available to complement a variety of architectural styles.
"Steel carriage house doors are a popular alternative to traditional wood doors because they are durable, insulated and won't rot, warp or crack, eliminating the ongoing surface maintenance wood doors require," says Pat Lohse, Clopay's vice president of residential marketing..
Coachman Collection doors are available with Clopay's built-in WindCode® reinforcement system for homes located in coastal and high wind areas.
Maximizing Year-Round Comfort with an Energy Efficient Garage Door
Replacing an older garage door with a new, energy efficient model can reduce energy loss through the garage by up to 71%, according to a comparison study conducted by Clopay engineers.
"Since attached garages share up to three common walls with the house, any hot or cold air that travels through the garage will ultimately affect the adjacent living areas," says Mark Westerfield, P.E., Director of Product Development for Clopay. "An insulated garage door can help stabilize temperatures in the garage to reduce heat losses or gains."
Depending on the specifics of the home, a well insulated door can help keep an unheated garage 10 to 20 degrees warmer on a cold winter day. "That can have a significant impact on the comfort of family rooms or bedrooms located next to or above the garage," adds Westerfield.
For more information, visit http://www.clopaydoor.com/coachman.aspx.
# # #
With three manufacturing facilities and 51 distribution centers across the U.S. and Canada, Clopay Building Products is North America's leading manufacturer of residential garage doors and a preferred supplier of commercial overhead sectional and rolling steel doors.
Bringing nearly 50 years of experience and innovation to the building products industry, the company maintains a strong family of brands including Clopay®, Holmes Garage Door Company® and IDEAL Door®. Since 1996, Clopay is the only residential garage door brand to earn the Good Housekeeping Seal.
In 2010, the company launched fiberglass and steel entry door lines to complement its popular residential garage door styles. Today, Clopay is the only manufacturer in the industry to offer homeowners the option to coordinate the appearance of the two most important entrances to their home: the front door and the garage.