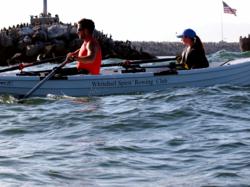 "Our goal from the beginning, a quarter century ago, was to introduce people to the fun and fitness benefits of slide seat rowing in Whitehall Spirit® boats.
Victoria, BC (PRWEB) May 30, 2012
Since 2001 the sport of slide seat rowing has rapidly spread through private and collegiate rowing clubs and focusing on competitive rowing done in racing shells on calm water. For the general population however, rowing has not been a popular recreational sport. It has been seen as a demanding, expensive sport practiced mainly by elite young athletes in extremely skinny and tippy boats. Learning to row in a racing shell takes multiple training sessions with many hours of instruction and practice. The stability issue becomes even more limiting as people age and for those of heavier weight. This has now changed.
Marie Hutchinson and Harold Aune founded their boat manufacturing company Whitehall Rowing & Sail in Victoria BC back in 1987. They were the first to manufacture and produce classic rowing boats combining slide seat rowing systems, normally found in racing shells, with stable, seaworthy Whitehall rowing boats. The famous Whitehall rowing boat's unique lines can be traced back hundreds of years. Whitehall Rowing & Sail has shipped thousands of boats to rowing and sailing enthusiasts all around the world under the brand name Whitehall Spirit® boats.
In 2007 the company invested in new technology resulting in the world's first thermoformed copolymer rowing boats, the Solo 14™and the Tango 17™. These new boats fully embrace high tech slide seat sculling technology. They are significantly lighter than their fiberglass and teak sister ships as well as extremely durable with a glossy surface finish that requires next to no maintenance. With their abundant stability, they also offer a greater degree of ease when learning to row, or while handling wind and waves and boat wakes.
Marie states, "There are three basic reasons why people do not own a Whitehall Spirit® boat themselves. Firstly, many cannot afford one, secondly unless they have their own dock or have easy access to water, they have no place to keep one, and thirdly they simply don't have the time to go through the time consuming process of getting organized and out." Responding to the recognition of these problems back in 2009, Marie and Harold established the Whitehall Spirit® Rowing Club of Victoria. It proved to be very popular with local people looking for new, affordable ways to stay fit and get out slide seat rowing and solved the expensive ownership problem by granting members affordable and fast access to these sleek, safe and stable open water rowing boats.
The key to the club's operation is the proprietary online booking system that enables members to book their preferred boat at their convenience, even on their cell phones, plus a number of innovations to help make access to the boats quick and easy. The boats themselves are neatly parked on low specially designed floating docks. Once the coded lock is undone a member simply slips it into the water and heads off for a row for the length of time they booked the boat out.
The Whitehall Spirit® Rowing Club boats handle very well in wind and waves as well as calm water. This type of rowing is called open water rowing. This means that vast new areas are available for people to safely get out rowing while keeping fit and having fun.
When friends of the Victoria Club members wondered whether there were clubs like this in their area, it led to the development of the Whitehall Spirit® Rowing Club Franchise.
The benefits to club owners and members are many. For club owners the durability, strength and ease of maintenance of the boats is quite attractive. New members receive excellent top quality training and orientation to the degree needed from the club instructors.. Trainees quickly gain experience and confidence and are likely to become long-term members. Members also avoid all of the obstacles involved in boat ownership like initial cost of buying, storage hassles, launching fees, regular maintenance, repairs, and insurance premiums. In fact for the WSRC members the only responsibilities left are booking their boats and going out rowing.
Members can purchase banks of hours at rates between ten to twenty five dollars per hour depending on the number of hours they have purchased and placed into their time bank.
The first US franchise, the "Whitehall Spirit® Rowing Club of Marina del Rey" opened in California in 2012. Their fleet of fully equipped Solo 14 singles and Tango 17 doubles is conveniently located at 14025 Panay Way next to the famous Mothers Beach. This club, features professional open water rowing instructors, along with dock attendants who act as valets and have member's boats waiting and floating in the water for them when they arrive to go rowing.
With clubs in Seattle, San Francisco and San Diego in their sights, Marie states "Our goal from the beginning, a quarter century ago, was to introduce people to the fun and fitness benefits of slide seat rowing in Whitehall Spirit® boats. With our new franchise growing strong that goal is looking good in spite of the economic conditions. Even more importantly the rowing club members are loving it."