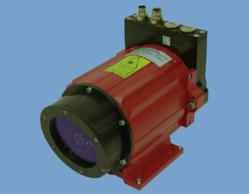 "TR continues to see tremendous up-take with our laser distance solutions, especially the EtherNET/IP version of our LE-200. We're building on our success with the new ProfiNET version.", says Matthew Scott, Director of Operations for TR Electronic
(PRWEB) May 29, 2012
The ProfiNET enabled LE-200 laser distance measurement system from TR Electronic provides a new interface option for challenging, longer-distance applications where traditional technology cannot deliver.
Laser-based measuring devices have generally been implemented with high-speed interfaces such as SSI or fieldbus technologies to provide the necessary response time for precision measurement. The LE-200 was the first long-range laser on the market available with EtherNET/IP and TR Electronic continues to support all leading industrial Ethernet protocols with the release of the ProfiNET version. The new ProfiNET option provides a clear migration path for those customers looking to maintain their control hardware platform. The LE-200 is also available with a variety of protocol options including EtherNET/IP, DeviceNET, Profibus, Interbus and CAN interfaces.
The LE-200 is a laser-based system where the emitter/receiver is positioned opposite a target (either a flat, clean surface or a specific reflective target) and as the distance between the two is varied, the position is evaluated and a corresponding value is transmitted from the device to the control system. Either the laser device, or its reflector, is fixed and the other end will move relative to it, depending on location of available power and control system wiring.
The ProfiNET LE-200 laser is a standard position sensing product with a measuring range of 0.2 – 240 metres. It has an accuracy rate of +/- 2mm and is available with cooling and heating options for the most extreme environments.
For common positioning applications including loop control, coil diameter measurement, automated warehousing, level and material control in silos, crane positioning and general material handling of parts or containers over large scanning distances, the LE-200 with ProfiNET allows for a seamless transition towards next generation communications in the industrial automation industry.
For additional information on TR's motion solutions or to speak with any member of their Customer Care Team, please call 1-800-265-9483, visit TR Electronic on-line at http://www.trelectronic.com or e-mail customercare(at)trelectronic(dot)com.
For a press kit or media contact, please contact:
Lindsay Ocovich
Marketing Specialist
TR Electronic North America
(519) 452-1999
locovich(at)trelectronic(dot)com
Matthew Scott, P.Eng, MBA, CMA
Director of Operations and Strategic Development
TR Electronic North America
(519) 452-1999
mscott(at)trelectronic(dot)com