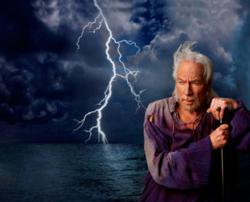 "To hear Mr. Plummer ... is to be bewitched by a spell that only authoritative classical actors can cast" – New York Times
Santa Fe, New Mexico (PRWEB) May 28, 2012
The Lensic, Santa Fe's Performing Arts center, presents in high definition, 'The Tempest', starring Academy-Award Winner Christopher Plummer. The stage play was filmed live over two days with eight cameras at the Stratford Shakespeare Festival in Ontario, Canada. This event is on the SantaFe.com event calendar.
3 Easy Ways to Buy Tickets

Call (505) 988-1234.
Stop By The Lensic
Buy Online at TicketsSantaFe.org
"Christopher Plummer is quite simply one of the greatest actors of our time, both on stage and on screen. The opportunity to see him as Prospero in THE TEMPEST—one of the greatest roles ever written and one he has longed to play—is nothing short of historic," said Des McAnuff, Artistic Director of the Stratford Shakespeare Festival.
THE TEMPEST pits the desire for revenge against the demands of love and asks if man is capable of creating a brave new world. The story focuses on Prospero (Christopher Plummer), the banished Duke of Milan. Marooned on a distant island with his daughter, Miranda (Trish Lindström), Prospero has spent twelve years perfecting his magic arts. Now, with the help of the spirit Ariel (Julyana Soelistyo), he raises a storm at sea, bringing within his grasp the enemies who robbed him of his dukedom.
In addition to the 131 minute presentation of the theatrical play, the presentation will include a 20 minute captured live Q&A with Christopher Plummer, Des McAnuff hosted by Barry Avrich, Executive Producer of ' The Tempest' live capture.
Total Event running time is 155 minutes (2 hours, 35 minutes).
The Q&A reunites Christopher Plummer and Des McAnuff in a lively and insightful discussion about the challenges of capturing live theater for cinema screens. Audience members ask some diverse questions covering the arc of Plummer's career, and if (following The Sound Of Music) whether he will ever sing on screen again. The Q&A is a delightful addition to the theatrically dazzling presentation of The Tempest.
Reviews for THE TEMEPST
"To hear Mr. Plummer ... is to be bewitched by a spell that only authoritative classical actors can cast" – New York Times
"It's about vengeance, forgiveness, coming home and learning what you really want from life and while McAnuff delivers all of that, he manages to entertain us mightily as well." – Toronto Star
"Christopher Plummer, a true wizard with Shakespeare's words…as if he's tapped into some enchanted well of poetry deep within."
– Globe and Mail
ABOUT THE STRATFORD SHAKESPEARE FESTIVAL:
With William Shakespeare as its foundation, the Stratford Shakespeare Festival aims to set the standard for classical theatre in North America. Embracing its heritage of tradition and innovation, Stratford seeks to bring classical and contemporary theatre alive for an increasingly diverse audience. Stratford mounts plays that run from April to October in Stratford, Ontario, Canada. This year, 2012 marks the Festival's milestone 60th season.
About The Lensic, Santa Fe's Performing Arts Center:
The nonprofit Lensic Performing Arts Center enriches lives by bringing diverse art and people together in the historic Lensic Theater, a cornerstone of downtown Santa Fe since 1931. The Lensic presents and supports local, national and international artists and serves as a center for education, community and youth events through its accessible and affordable programming.
About SantaFe.com
SantaFe.com provides locals and visitors to Santa Fe alike the most current interactive platform for events, music, arts, business, dining and lifestyle. SantaFe.com is a division of Hutton Broadcasting, located at 2502 C. Camino Entrada, Santa Fe, NM 87507
Contact Information:
Scott Hutton
SantaFe.com / Hutton Broadcasting
http://www.santafe.com
(505) 471-1067 (Media inquiries only, please)