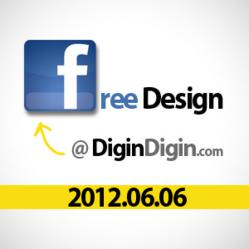 Montreal Quebec (PRWEB) May 29, 2012
DiginDigin.com has something to offer to those who are looking for a brand new logo for their business or a well designed name card. To celebrate its first year anniversary on June 6, 2012, DiginDigin.com is holding a Free Design Event on Facebook.
Digindigin is inviting everyone to take advantage of their special promo by liking their Facebook fan page and sharing the free design Facebook post on their walls. Those who do so will be immediately awarded $20 store credits, usable only at Digindigin.com. This special promo is only available from now until June 6.
Digindigin also promises more for those who use their store credits on the anniversary day itself. The first 30 people who start a design contest at DiginDigin.com on June 6 will have their $20 amount raised to $50, enough to start a design contest. Design contests allows clients access to DiginDigin.com's crowdsourcing capability, opening up their projects to thousands of designers from all over the world.
Even if interested parties do not want to get designs at the moment, they may still avail of their credits by liking and sharing the Digindigin Facebook page, then using the $20 promo at some future date. However, the $50 deal is good for June 6 only, with Digindigin.com giving out the 30 free contests strictly on a first-come, first-serve basis.
Digindigin has even more to offer for their sharp-eyed fans. The Digindigin Facebook page will feature a stream of design tips and fun pictures, some of which will contain
$20, $15, and $5 coins. Those who find these coins and immediately declare it in their comments may add the total value of their coins to their project budget, once they have started a design contest with Digindigin.
Starting a design contest is a simple three step process: 1. Client fills out a design request; 2. They monitor designers as they submit their work; and 3. They choose a winning design.
DiginDigin.com is an innovative online graphic design platform that uses crowdsourcing to create the best value for their clients. Instead of a traditional advertising company with a team of perhaps two or three in-house designers, DiginDigin.com opens up a project as a contest for designers from all over the world. The result is a wide variety of design concepts to choose from, at a fraction of the usual cost. Clients select and pay only for the best design of the bunch. If no designs fit the bill, then the client gets their money back, guaranteed.
DiginDigin.com's Free Design Day offers a way to make an impression with a well designed logo or business card, at no cost or risk to the buyer. Digindigin.com is encouraging everyone to grab the Free Design Event opportunity and be one of the 30 lucky promo winners. Interested parties can join in by liking and sharing the DiginDigin Facebook fan page from now until June 6.