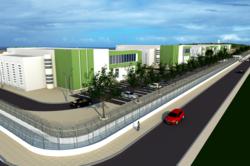 We wanted to provide a unique portal where they could auto-configure these resources and get their computing platforms up and running in less than ten minutes
Willemstad, Curaçao (PRWEB) May 30, 2012
"We are planning on launching a powerful set of products that will dramatically shift how micro and large scale enterprises think about how they use technology in their day-to-day business. It's clear that customers want more than just basic collocation, power and connectivity services. That is the past. We started off by ensuring we could offer companies a sophisticated facility that would be based on a Tier-IV design, the highest accreditation for any data center in the world, and for which there are none in the region today. Together with partners such as Schneider Electric, CISCO systems and others, we engineered the most advanced data center in the region, drawing on lessons learned from around the world and using the latest technology. We wanted to develop a technical infrastructure that would enable customers to design and configure computing power (servers, networks, storage, etc.) when needed and as needed.
We then set out to provide customers with a unique portal where they could auto-configure these resources and get their computing platforms up and running in less than ten minutes through the selection of a simple set of point and click options. Once configured, users would then be able to access a sophisticated appstore that would allow them to order basic productivity services such as email, document management, project management, group calendaring, customized intranet, etc. And, we wanted to ensure that we could offer these services at a fraction of the cost of what they pay for these services today. For months, engineers have gone through a detailed product selection process to integrate the most advanced capabilities and offer customers in the Caribbean and Latin America a set of advanced cloud services," says Anthony de Lima, CTEX's Chairman & CEO.
"We are now in the final stages of engineering and will shortly release some amazing products to the market. Our goal is to help our customers redesign their offices and rethink everything they've come to know about computers. This fall, we will pre-launch some of these services by leveraging temporary data center facilities from our partners then subsequently migrate customers to our Tier-IV designed facilities which are scheduled to be in production in the summer of 2013," said Frank de Fremery, the company's Chief Commercial Officer.
Customers will have:

Access to state of the art computer servers, safely located in a facility under strict security
The ability to configure office computers and servers in no more than ten minutes – no hassle to order install, configure and test.
Configuration control on an "as needed" basis
A flexible usage based payment model – customers only pay for used computing power
Advanced communication, all in a box – no need for specialized communication equipment
Enterprise class email, calendaring and scheduling with push and sync technology to any mobile device, all centralized in a safe facility
Sophisticated security monitoring, all taken care of with advanced reporting capability
Access to a rich appstore – access to advanced productivity software such as word processing, project management, document management, all available at a fraction of the cost of what customers pay for today
The ability to launch an Intranet to easily allow intra- and intercompany document sharing
Live backup of critical data to a safe and protected facility
The ability to store, share and collaborate securely on any file type online
No need for upfront capital expenditures or ongoing expenses to upgrade hardware
A support staff, ready 24x7 to answer any questions and provide immediate assistance
CTEX is working with several value-added partners to create a rich appstore that will host a variety of products tailored to the needs of the Caribbean and Latin America market. For customers, this means a better investment model for technology, and also peace of mind that their systems will be running at the region's most advanced and most secure facility.
CTEX will operate a green certified data center and internet exchange point from which collocation, interconnection and managed services will be delivered to enterprise, government, and institutional clients. The data center fabric is designed using the latest 'cloud' computing infrastructure enabling companies to pool computing, storage, networking and power needs on an 'on-demand' basis. Customers can build private virtualized environments leveraging VMware and other technologies to maximize their investments while fully controlling their spend. CTEX offers four types of core solutions: cloud computing infrastructure, managed hosting, disaster recovery & workgroup recovery, and physical media storage & archival services. For additional information visit http://www.ctexpartners.com
About Schneider Electric
As a global specialist in energy management, with operations in more than 100 countries, Schneider Electric offers integrated solutions across multiple market segments, including leadership positions in Utilities & Infrastructures, Industries & Machine Manufacturers, Non-residential Buildings, Data Centres & Networks and in Residential. Focused on making energy safe, reliable, efficient, productive and green, the group's 130,000 plus employees achieved sales of 22.4 billion Euros in 2011, through an active commitment to help individuals and organizations make the most of their energy. For more information, visit http://www.schneider-electric.com
About CISCO
Cisco is the worldwide leader in networking that transforms how people connect, communicate and collaborate. For more information, visit http://www.cisco.com
About EFEX
The Efficiency Expo (EFEX) is a bi-annual exposition for the Information Technology and Electronics sector. It showcases all the latest and the best from the vast areas of technology and efficiency such as internet providers, software, solutions for virtualization of documents and software, consumer and business devices, telephony and more. EFEX is a three day exhibition which will be held from May 31st to June 2nd in the World Trade Center Curacao. The event offers a valuable learning and networking environment for people interested in advancing their knowledge of the trade. For more information, visit: http://www.efex-curacao.com