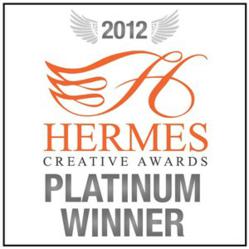 Calgary, AB (PRWEB) May 29, 2012
With one of the toughest competitions on record, Calgary-based video production powerhouse Kicker took home 3 Hermes International Creative Awards in this year's 2012 competition - including a top Platinum and Gold award for best in show web videos. Winning videos were judged by industry professionals who determined that Kicker's work exceeded high standards of excellence and served as a benchmark for the industry.
The Hermes Creative Awards is an international awards competition for creative professionals involved in the concept, writing and design of transitional and emerging media.  
Kicker won a prestigious Platinum award for Orb Music/Sirius XM in the Product Marketing category. Hermes' Platinum Awards are presented to those entries judged to be among the most outstanding entries in the competition.  Winners are recognized for their excellence in terms of quality, creativity and resourcefulness. Kicker also took home a Gold award for Optimus US Real Estate in the Product Marketing category and an Honorable Mention for Altalink in the Internal Communications category.  
"We are proud of the Optimus video, we get a lot of compliments on it and more importantly, the video helps us drive leads for the Optimus US Real Estate Fund. Congratulations to the team at Kicker!", said Arthur Wong, President and CEO of Optimus US Real Estate Fund.
The Manager of Communications at Altalink, Leanne Niblock said, "The video is a celebration of our 10th Anniversary.  We wanted it to be fun and bring a sense of pride to our team.  Kicker was an excellent partner in the process and delivered exactly what we wanted.  We love the video!"
"Kicker is once again thrilled and honored to be recognized by an international body for online videos we develop with our customers," said Paul Bzeta, President & Managing Director of Kicker. "These awards are great confirmation of the strategic & creative planning our team puts into every video we produce for clients all over North America. The videos are great, but what drives us is delivering sales & marketing results for our clients."  
To find out more about Kicker's Hermes Awards 2012, please visit:  http://www.hermesawards.com. Search for "Kicker" in the Platinum and Gold categories.
About Kicker
Kicker Inc. was founded in 2005, inspired by the philosophy that okay work won't work. High impact storytelling is what our work is all about. From producing television commercials, documentaries, corporate & marketing videos to award-winning animations, motion graphics & online training modules -- Kicker creates work that stands out. On time, on budget. We guarantee it.