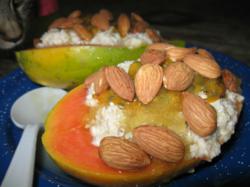 We take a whole person approach that addresses the five pillars of wellness emphasizing: nutrition, mind-body connection, sleep, breathing, and exercise
Hilo, HI (PRWEB) May 29, 2012
Dr. Kimo Alameda, Director of the Hawaii Department of Health interviewed three key professionals from Pacific Quest wilderness therapy program in a weekly wellness talk show on the Big Island of Hawaii. The television program "Rise Above" invites speakers to share information on issues of importance related to health and wellness. This week's show focused on the growing rate of mental health disorders in youth, and how Pacific Quest's Sustainable Growth treatment model provides an effective alternative to traditional wilderness and residential therapy for adolescents and young adults.
The featured guests included Mike McKinney Executive Director, Dr. Britta Zimmer Medical Director, and Travis Slagle Land Supervisor at Pacific Quest. The speakers described fundamental aspects of Pacific Quest's outdoor therapeutic program, blending aspects of nutrition and exercise with Hawaii organic gardening and horticultural therapy. Dr. Zimmer stated, "We take a whole person approach that addresses the five pillars of wellness emphasizing: nutrition, mind-body connection, sleep, breathing, and exercise." Dr. Alameda commented on the common challenges to maintaining health in our fast-paced society, and how often the importance of physical health can be overlooked as a precursor to mental health. Travis Slagle stated, "the students at Pacific Quest learn to value their own health and nutrition not through lectures, but instead by growing their own food. Students internalize the lessons of caring for a garden with lessons about caring for themselves." The show concluded with an affirmation on the tenets of positive youth development, and the strong cultural context of Hawaii as a natural destination for individuals from around the world seeking new skills and perspectives in mental health and physical well-being.
About Pacific Quest
Pacific Quest is an outdoor therapeutic program for struggling teens and young adults, located on the Big Island of Hawaii. Their wilderness programs offer a clinical, yet holistic approach to treatment, going beyond traditional wilderness therapy and teaching sustainable life skills. Pacific Quest's proprietary therapeutic model is a groundbreaking approach that uses organic gardening to create concrete metaphors for its students as they cultivate their own health and happiness. Pacific Quest provides an environment that allows for a true discovery process for its students, a place that is safe, structured, experiential and natural. Owned and operated by a veteran team of professionals with hundreds of years of combined wilderness program experience, Pacific Quest offers a unique approach to treatment that is individualized for each student.