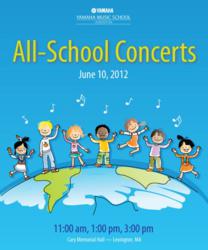 Lexington, MA (PRWEB) May 29, 2012
Yamaha Music School of Boston celebrates the end of the 2011-2012 school year with its most extensive line up of recitals and concerts ever. Featuring over 725 students performing in 6 different events, the concerts are expected to draw upwards of 2500 people.
The series kicks off on Friday, June 2 with a 6:00 pm private lesson recital at Hancock Church in Lexington, MA. Two more recitals follow on Saturday, June 3 at 5:30 and 7:00 pm (Hancock Church). All recitals are followed by a reception and a presentation of achievement awards and certificates.
On Sunday, June 10, Yamaha presents the annual All-School Concerts at Cary Hall in Lexington center. Due to the growth of the school, the day has expanded from 2 to 3 concerts. Concert times are 11:00, 1:00, and 3:00.
Extremely popular with parents, family, and friends, the All-School Concerts feature class keyboard ensembles, melody and solfege singing, and a grand finale with all students. The grand finale is A Song of Peace by Teresa Jennings.
For the first time, each concert will feature a Junior Original Concert (JOC) composition by a Boston Yamaha student. Junior Special Advanced Course students Tristan Ohler (Acton, MA) and Lily Hoyt (Chelmsford, MA) will perform on the 11:00 and 1:00 concerts, respectively. Young Musicians Course graduate and 2012 National Junior Original Concert participant Jennifer Murphy (Woburn, MA) performs at the 3:00 concert.
All of the events are free and open to the public. Seating is limited. For more information, please call 781.274.7100 or email ymsboston(at)yamaha(dot)com.
About Yamaha Music School of Boston
For 50 years, over 5 million families worldwide have trusted Yamaha Music School programs to inspire a lifelong love and appreciation for music learning, playing, and creative expression.
With innovative lessons for children through adults, Yamaha's programs are designed to meet the unique needs and abilities for beginner through advanced students. The method combines a comprehensive curriculum with a fun, engaging classroom environment to promote a strong, well-rounded educational foundation.