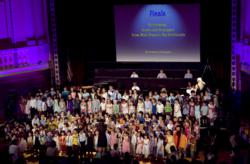 An unparalleled curriculum, talented teachers, and committed families have all contributed to the school's early success and growth. It's been gratifying to be a part of the school's growth from the very beginning.
Lexington, MA (PRWEB) May 30, 2012
As Yamaha Music School of Boston prepares for another exciting series of All-School Concerts in Cary Hall this June, the school is also celebrating its six-year anniversary. Yamaha teacher Sarah Lee Corrigan, who has been at the school since its inception, is pleased to see how far it's come. As she remembers the very first all-school concert in 2007, she says, "The school wasn't very big yet and every class played, even JMC 1! We ended with a finale of 'Adventurous Kids'. It's hard to imagine that was only five years ago, and it's incredible to see just how fast our school has grown. Each year, the teachers, along with Jim and Catherine, have worked together to grow this concert into what it is right now."
When the school first started, it only had 2 teachers, 50 students, and 6 classes. Before the school was built, teacher candidate auditions were held at Boston University. Now, the student body has increased to nearly 800 students enrolled in 75 different classes, and a faculty of 14 teachers.
Jim Keenan, director of Yamaha Music School, agrees that many different factors have helped achieve the school's speedy success. "An unparalleled curriculum, talented teachers, and committed families have all contributed to the school's early success and growth," Jim says. "It's been gratifying to be a part of the school's growth from the very beginning."
Yamaha teacher Rebecca Helm adds, "The rapid growth of the school over the past 6 years is truly a testament to the incredible Yamaha curriculum, knowledgeable educators, and efficient staff." In 2011, Rebecca was selected to present at the World Teacher Forum in Tokyo- one of many of the school's prestigious accomplishments.
The students at Yamaha have garnered their own share of achievements. So far, over 30 students have successfully completed the Yamaha Grade Examination (grades 9 and 8). The students have not only been involved in the fabric of the local community, but have had an impact at the state, national, and international level. A handful of students have won first place and other awards at Massachusetts Music Teachers Association competitions, while others were invited to perform in Yamaha National Junior Original Concerts (JOC) in 2010 and 2012. In addition, several students were awarded Superior, Outstanding, and Honorable Mention for National JOC. Out of over 50 US schools, the Boston-area location is the only 'corporate owned' Yamaha school in the US. The close working relationship with Yamaha Corporation of America in Buena Park, CA and the Yamaha Music Foundation in Tokyo, Japan ensures that the school has top notch facilities, instruments, and standards, as well as faculty and staff.
It's hard to believe that the school started out small, with only a few young students. "The first concert was a learning experience for everyone - the teachers, parents, and students," says Yamaha teacher Josh del Dotto. "We had a fraction of the student population we have now, and the size and scope of the concert was nowhere near what it is now. During the first concert, all the kids were young and playing JMC2 songs. There weren't really any advanced classes at that point. It is amazing to see the immense range in level we have now."
Director Jim Keenan also recounts the school's early history. "In 2005, the school was still just an idea. Despite a long and distinguished international history, the Yamaha method was largely unknown among parents and music educators in Boston. We started from scratch, finding the location, building the school, hiring teachers, and recruiting our first students." In fact, Lexington wasn't always a sure choice for the school location. Brookline and Newton were also under consideration.
Teachers who have been at the school since the beginning have been able to see the shape of their students' musical journeys as well. Josh Del Dotto says, "The kids are playing complex recital pieces, and the recital is a real sense of accomplishment now for the kids, partly because they and their parents work so hard to prepare for it. I am so happy that most of the families see the value in attending, and I love to see how both the parents and the kids feel so proud afterwards."
Despite all of these achievements, the school's core mission remains the same: being a place where students can make music, and have fun while they're at it. Mike Morrell, the Manager of Music Education at Yamaha Corporation of America, says, "A primary purpose of the Boston school is to promote the value of music education and music participation in our society in a meaningful way locally, nationally, and globally. In the first few years, the enthusiastic response of the Boston community shows that we are achieving this goal. The school's influence and success will continue to expand."
Sarah Lee Corrigan reflects on this very purpose. "I can still remember the very first concert in June of 2007. I'm positive that we are the only school in the area that has such a production and I'm honored to have been a part of it since the school opened. Although so different from the first concert in 2007, I'm proud to say that with or without the strong production, we have still managed to remember to celebrate our accomplishments and what is most important, making music together."
About Yamaha Music School of Boston
57 Bedford St
Lexington, MA 02420
781.274.7100
ymsboston(at)yamaha(dot)com
For 50 years, over 5 million families worldwide have trusted Yamaha Music School programs to inspire a lifelong love and appreciation for music learning, playing, and creative expression.
With innovative lessons for children through adults, Yamaha's programs are designed to meet the unique needs and abilities for beginner through advanced students. The method combines a comprehensive curriculum with a fun, engaging classroom environment to promote a strong, well-rounded educational foundation.