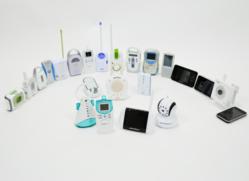 The winners were selected from a field of 14 top-rated baby monitors
Cheyenne, WY (PRWEB) May 29, 2012
Baby product review website BabyGearLab.com announced today the results of its 2012 Editors' Choice awards for baby monitors. The winner was selected from a field of 14 top rated baby monitors, all of which were subjected to rigorous testing covering the following categories: unobstructed range test, indoor multi-wall range test, interference test, sound clarity, ease-of-use, and features. The testing, which was conducted in a controlled environment and utilized industrial sound monitors, identified the best baby monitor overall, the best for sound-monitor only, and the best value in a baby monitor. Each monitor underwent extensive side-by-side comparisons. View the complete ratings of 14 top baby monitors from the 2012 review on BabyGearLab.com.
The winners are:

Editors' Choice Award for Best Baby Monitor Overall – Angelcare Deluxe Movement and Sound. According to RJ Spurrier, BabyGearLab Review Editor, "the Angelcare Deluxe costs more than a typical baby monitor, but it's worth it. It outperformed all of the other monitors that we tested on range, proved highly resistant to interference, and includes a very unique movement detection feature. It was our favorite monitor and the one we use ourselves."
Best Value Award Baby Monitor –Sony BabyCall 900Mhz. According to Spurrier, "Coming in at less the $40 street price, the Sony BabyCall offers a great combination of features, range, and ease-of-use. It was the easiest to use monitor we tested, and we rated the sound clarity on par with monitors costing more than twice as much."
Top Pick Award for Best Sound Baby Monitor – Philips AVENT DECT Baby Monitor. According to Spurrier, "No other monitor could match the Philips AVENT DECT baby monitor when it comes to sound clarity, range, ability to avoid interference, and ease of use. The Philips AVENT DECT was the top scoring monitor across our full range of tests, and it earned our Top Pick award."
The Editors of BabyGearLab have compiled an article with advice on How to Select the Best Baby Monitor, which includes guidance on issues such as what features are most useful in practice, what benefit is gained by spending more on a monitor, and whether video monitors are worth the added expense.
To see the full details on the baby monitor tests, as well as the complete listing of other baby product reviews visit BabyGearLab.com.
About BabyGearLab LLC
BabyGearLab was founded in 2012 by pediatrician Dr. Juliet Spurrier and is dedicated to offering the world's best quality reviews of products needed in a baby's first year of life. For more information visit babygearlab.com.