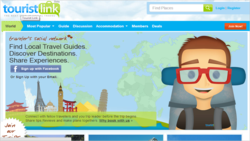 Nagpur, India (PRWEB) May 29, 2012
Touristlink is pleased to announce that it was selected as one of the 100 winning companies out of the 656 who applied during the fourth round of Start-up Chile. Start-up Chile is a prestigious global accelerator program which offers 40k in equity free-seed capital to winning participants who set up business in Chile. David Urmann, the founder of the site commented, "We are very pleased to be selected as one of the participants and we look forward to making the most of the innovative business environment that Start-up Chile is fostering in Santiago."
Touristlink.com is a new social travel site where travelers can interact with each other and with local business owners in a value-added environment, rich with relevant up-to-date content and targeted reviews. Touristlink.com brings social networking to group travel bookings by letting members connect to other travelers on the same trip. Touristlink members can see who is going on a trip, who has already bought it and who is the trip leader. Users of the site can ask questions directly to the trip leader and get to know the other people going on the trip before making a purchase decision. Group travel lends itself to social networking and the new social booking features on Touristlink let members connect, share tips and plan activities both before and after the trip.
Start-Up Chile is a program created by the Chilean Government, initiated by the Ministry of Economy and executed by Corfo, that seeks to attract early-stage high potential entrepreneurs to bootstrap their startups using Chile as a platform to go global. In line with the national goal of converting Chile into the innovation and entrepreneurship hub of Latin America, the program plans to bring 1,000 startups to Chile by 2014.
During the six months the participants must be in Chile– for which they receive US$40k of equity-free seed capital, a 1-year work visa, and access to local financial and social networks– the objective is to raise funds, hire talent, create networks, and to launch their businesses from Chile while leveraging and interacting fully with the local entrepreneurship ecosystem.
The program, unique in the world, and catalyst of similar initiatives such as Startup America, Britain, and Greece, is the ideal opportunity for bootstrappers to receive funding without ceding equity while utilizing one of the strongest Latin American economies as their launching/development platform. Start-Up Chile has been featured in The Economist, BusinessWeek, TechCrunch, and Forbes, among others.