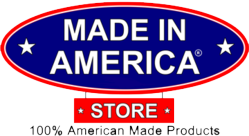 (PRWEB) May 29, 2012
The month of May is recognized as National Military Appreciation Month and the Made In America Store plans on reaching out to make sure the active duty are thanked. In the month of May there are three different holidays (Armed Forces Day, Memorial Day and Military Spouse Day) that shows appreciation to our active duty, retirees and every veteran,
Monday May 28th, is Memorial Day and the Made In America Store recognizes every individual that gave their life. In memory of those who gave the ultimate sacrifice, the Made In America Store is offering an American flag from Valley Forge at a discount rate.
Customers that wish to view the Valley Forge Flag on display can visit http://www.MadeInAmericaStore.com or call 716-652-4872 and order the 100% USA made flag.
Consumers who wish to take advantage of the holiday special can use promo code "Flags" at the checkout screen and receive the Valley Forge flag at $20.00, as opposed to the normal $30.00 price tag.
The Made In America Store is located at 900 Maple Road in Elma, New York and is committed to selling 100% American manufactured products. You can visit http://www.MadeInAmericaStore.com for more information or shop our catalog of over 290 vendors that are devoted to producing USA made products. All US military personnel both active duty and retired receive a discount every day. Consumers can also keep up to date news articles, events, photos and contests with Facebook, Twitter, Google+, Pinterest and Tumblr!