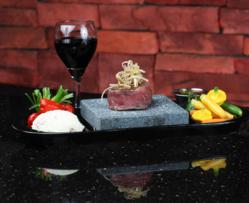 Diners at Hana Zen can now enjoy premium entrees delivered to their table seared and sizzling on hot volcanic rocks.
San Jose, CA (PRWEB) May 30, 2012
With an iconic view of Alcatraz and the Golden Gate Bridge in the background, diners at Hana Zen Japanese Restaurant and Sushi Bar at Pier 39 in San Francisco can now enjoy premium entrees delivered to their table seared and sizzling on hot volcanic rocks. Owner Angie Louie discovered hot rock cooking while on a recent Caribbean cruise. She and her kids enjoyed it so much she decided to introduce it into her own restaurant.
Angie partnered with Rok Cooking in San Jose who provided Hana Zen with one Premier 650 High-Temperature Oven, one stainless steel oven stand, 108 Rok sets (consisting of Rok, plate and stainless steel insert), one stainless steel rock shovel, 50 table displays, on-site training, advertising materials and a warranty. Rok's commercial system is extremely affordable and can be easily added to an existing restaurant or implemented as a stand-alone concept.
In addition to Hot Rock cooking, Hana Zen features authentic Japanese Cuisine. Hana Zen preserves the tradition of Sushi by using the freshest and widest variety of fish. Hana Zen's real Japanese dishes use the highest quality fish, chicken, lamb and beef. Hana Zen also has a large variety of premium Sake, Sake flights, wines and cocktails. Visit Hana Zen at http://www.hanazenrestaurant.net.
About Rok Modern Stone-Age Cooking
Rok is the leader in the design, manufacturing, and distribution of rock cooking products to restaurants and homes worldwide. For nine years, Rok has produced and offered a compelling cooking product to restaurants and individuals looking to think (and cook) outside the box. The Rok Commercial Cooking System includes the Premier 650 High-Temperature Oven designed exclusively for use with hot rocks and delivering energy-efficient, health conscious food preparation with the educated restaurant owner in mind. The Rok Home Cooking system offers the most engaging and affordable interactive hot rock cooking experience for today's discriminating home cook who is looking to prepare healthier and more entertaining meals. To sum it up, Rok is "Modern Stone-Age Cooking at its Finest!" For more information about Rok Cooking, please visit http://www.rokcooking.com.