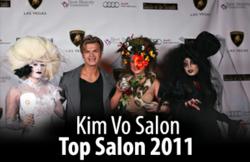 His experience as a judge on Shear Genius, his international notoriety, and his commitment to the competition and industry will position Battle of the Strands as a showcase for the beauty industry
Las Vegas, Nevada (PRWEB) May 29, 2012
Vegas Beauty Unbound, Inc., organizers of the epic salon competition Battle of the Strands, announced today that Kim Vo has accepted an invitation to host the 2nd annual battle, to be held October 22nd, 2012 in Las Vegas.
A master colorist, stylist, and beauty industry expert, Kim Vo led his salon at the Mirage to the title of Top Salon at the 2011 Battle of the Strands. His work appears regularly in fashion magazines, he is featured frequently on television shows ranging from Extreme Makeover to Shear Genius, and he is world-renowned for his unique, red carpet ready celebrity looks. His passion, creativity, and commitment to excellence prompted the organizers to invite him back this year.
"We are honored that Kim Vo has accepted our invitation to host this year's Battle of the Strands. His experience as a judge on Shear Genius, his international notoriety, and his commitment to the competition and industry will position Battle of the Strands as a showcase for the beauty industry," said Laura Skipworth, spokesperson for Battle of the Strands.
About Battle of the Strands
In 2011, five of Las Vegas' best salons went head to head presenting powerful creations featured in elaborate production numbers. After a fierce competition, The Kim Vo Salon at the Mirage Hotel & Casino was awarded the Top Salon of Las Vegas. The other participating salons were the Salon and Spa at Trump, Walk-In Salon by Robert Cromeans of Mandalay Bay, Canyon Ranch Salon at the Palazzo, and Cariloe Concept Salon.
This year's competition invites salons from across the nation to enter via video submissions. A panel of esteemed judges, including Lyle Malapit of 9037 Salon, Las Vegas and Celebrity Makeup Artist Kari Kisch, among other industry icons, will select the elite competitors. Contenders will create gravity-defying hair and fantasy looks inspired by the magic of Vegas. Five finalists will create a hair, makeup, and wardrobe masterpiece to be featured in a chosen production number to highlight their work.
The originality of the event was hailed by celebrities, industry professionals, and hundreds who watched in person and through a live web stream. "I have never seen such creativity, inspiration, passion and innovation in one show! Battle of the Strands is truly a unique platform to showcase our industry's talent," exclaimed Kari Kisch, Celebrity Makeup Artist and Overall Execution Judge in 2011.
For More Information
For more information about the event or to request media credentials, please contact Erin Utter, Director of Operations, Battle of the Strands, at 702/990-3368 or 702/612-0394, email erin(at)emailbestbeauty(dot)com or visit battleofthestrands.com