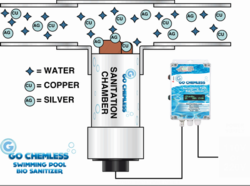 Saltwater pools are 100% Chlorine based pools, the Salt Cell System use salt and high voltage to create hypochlorous acid. This is exactly the same chemical that is found in traditional chlorine based pools
Fort Lauderdale, FL (PRWEB) May 29, 2012
Dr. Russell Betts, Chief Scientific Officer of Go Chemless, the company known for developing and offering swimming pool owners a healthier choice to sanitize their swimming pool, discusses the use of atoms and low voltage electrical charges for swimming pool sanitization in the science and technology section of the current issue of " Pool and Spa News".
With over 45 years in press, Pool & Spa News is one of the pool and spa industry highest regarded publications and considered leaders in the industry. Pool & Spa News magazine covers nearly ever pool and spa related topic form industry guidelines and laws, to the introduction of energy saving and echo friendly products to the latest technology in swimming pool sanitization.
In the current issue of Pool & Spa News, Dr. Betts discusses the use of copper and silver ions to disrupt and hinder the cell membranes of various pathogens and viruses found in swimming pools through the process of pool ionization.
Swimming pool ionization applies the principles for sanitizing water that was developed by NASA for sanitizing water for manned missions to space. Swimming pool ionization was introduced to the swimming pool sector in the 1970's but it lacked the computer technology to regulate the creation and flow of ions into the swimming pool. Go Chemless has developed the pool industry's first and only pool ionizer dubbed as a Bio Sanitizer that uses green technology and modern day computing to combat viruses, fungus, bacteria and algae while significantly reducing a swimmers exposure to harmful chemicals and their associated health issues. Dr. Betts said, "The Go Chemless' Bio Sanitizer offers the swimming pool consumer a safer and healthier alternative to the traditional chlorine and saltwater based swimming pools." Dr. Betts went on to say, "Saltwater pools are 100% Chlorine based pools, the Salt Cell System use salt and high voltage to create hypochlorous acid. This is exactly the same chemical that is found in traditional chlorine based pools and swimmers potentially remain exposed to harmful cancer causing chemicals, like Trihalomethanes." Trihalomethanes are found in traditional chlorine and Saltwater pools. The trihalomethanes are collectively linked to cause cancer as well as low testosterone, miscarriages and birth defects.
Dr. Russell Betts is Chief Scientific Officer at Go Chemless. He holds a Ph.D. in Organic Chemistry and has been involved in chemical and cancer research for more than 20 years.
About Go Chemless:
Go Chemless' mission is to bring to market quality, technological solutions that reduce exposure to harmful chemicals in swimming pools. Go Chemless has pioneered the use of multiple electrode base elements and measured multi-electrode electrolysis to achieve the pool industry's first bio sanitizer with "set it and forget it" intelligence. This combination of revolutionary green technology and leading edge computing is the first of its kind to battle viruses, fungi, bacteria and algae found in all pools, while reducing or eliminating the use of harmful and dangerous chemicals.
For company contact information and partnership opportunities, visit http://www.GoChemless.com
For More information:
Liz Kimbers
Liz(dot)Kimbers(at)GoChemless(dot)com
(855) 424-3653 Toll-Free