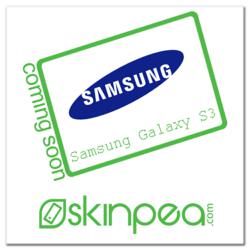 SkinPea's Anti-Rippling Technology is their secret formula that creates a clear, virtually 'orange peel' free surface
(PRWEB) May 30, 2012
SkinPea.com is finally taking pre-orders for the much anticipated Samsung Galaxy SIII (S3) which is rumored to be released on June 20th, 2012. We aren't sure how, but the folks at SkinPea.com seem to have managed to be one of the first manufacturers to produce high-quality screen protectors for this device.
Their touted "Anti-Rippling Technology" is their secret formula that creates a clear, virtually "orange peel" free surface that is difficult to find in many screen protector companies that boasts that their material is crystal clear. As an added bonus, all (if not, most) of their screen protector kits come included with clear side and back protectors. This enables users to carry their phones without worrying about damaging any surface of their device--all while showing off their phones the way it was intended to be: without a bulky case!
Not only are the screen protectors on sale, but SkinPea is putting their entire Galaxy Series of Samsung Devices on Sale for a limited time only.