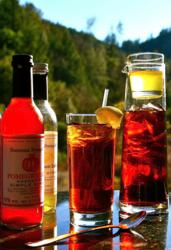 "We take great pride in providing each Auberge Resorts guest with special experiences that reflect the unique romance and fun intrinsic to our resort settings," said Mark Harmon, CEO, Auberge Resorts.
Mill Valley, CA (PRWEB) May 29, 2012
It's summertime, and the living will be easy on June 1, when Auberge Resorts unveils an all-new collection of seasonal spa pairings at each of its award-winning properties across North America. Inspired by ingredients native to each resort location, pairings include a spa treatment and cocktail each featuring the same ingredient(s) to create the ultimate duo of summertime bliss.
"We take great pride in providing each Auberge Resorts guest with special experiences that reflect the unique romance and fun intrinsic to our resort settings," said Mark Harmon, CEO, Auberge Resorts. "Our spas play an important role in fulfilling this vision, and this collection of seasonal spa offerings help to ensure that each guest can realize their perfect summer escape."
Available June 1 through August 31, offerings from each resort include:

Tequila Soother at Esperanza (Cabo San Lucas, Mexico): If tequila is good for the spirit, it must be good for the body. The treatment begins in the kitchen, with a salt and lime body exfoliation prepared by Executive Chef Gonzalo Cerda using pure salts from nearby Guerrero Negro. The treatment journey begins with an aloe vera and honey mask, complete with a fresh bouquet of mint leaves, followed by a tequila agave body wrap and a light facial featuring a mask of yogurt and oats. The mask is removed with cantaloupe and cucumber juice, improving and enhancing skin tone. The experience concludes with a full body massage using an agave-enriched massage oil. This treatment is paired with Esperanza's signature "Paloma" cocktail consisting of white tequila, grapefruit and lime juice. (Price: $335/2 hours)
Wild Rose Calistoga Cure at Calistoga Ranch (Napa Valley, Calif.): Inner harmony begins with the infusion of a silky whey and goat milk full-body scrub, blended with essential oils of wild rose to nurture summer skin. Delicate facial skin is soothed and fortified with a pomegranate facial mask, massage and hot-oil hair infusion, while the body is wrapped in steamed linen. Guests then enjoy a private soak immersed with wild rose & sunflower oils, followed by a regenerative full-body aroma massage blended with jojoba, wild rose & chamomile oil. The treatment is paired with a Summer Signature Pomegranate & Rose Berry Tea. (Price: $400/150 minutes)
Southern Orchards at Palmetto Bluff (Bluffton, S.C.): The sweet smells of southern orchards come alive at Palmetto Bluff with this two-hour summer sampler. Guests first indulge in a summer soak of nectar milk on an outdoor private veranda surrounded by the sounds of nature. Following the soak, the body is exfoliated with a fresh citrus grass salt scrub and cocooned in a honeysuckle blood orange custard body wrap. A 30-minute massage completes the orchard experience. This treatment is paired with the "Blood Orange Breeze," a refreshing blend of blood orange vodka, lemon-lime soda and fresh-squeezed blood orange juice. (Price: $300/2 hours)
Summer Thyme Bliss at Auberge du Soleil (Napa Valley, Calif.): Guests will begin by soaking in a warm chamomile milk bath infused with fresh thyme, lemon verbena and orange zest. After the soak, guests will be pampered from head to toe with a relaxing full body massage and nourishing scalp and foot treatments using soothing chamomile, uplifting orange, and fragrant fresh thyme. This offering is paired with the "Free Thyme," a combination of Margerum Pinot Gris, Marolo Camomile Grappa Liqueur, Mandarin Napoleon, fresh thyme and lemon juice. (Price: $350/2 hours)
Under the Sun at Solage Calistoga (Napa Valley, Calif.): This pair of treatments features a refreshing combination of lemon, cucumber and aloe. Guests can choose from the Skin Quencher body exfoliation or the Soothing and Brightening Facial. The Skin Quencher is an intensely hydrating body exfoliation that combines calming aloe, rich shea butter, cooling cucumber and organic lemon zest and delivers a refreshing remedy for dry summer skin followed by a relaxing 50-minute head-to-toe massage. The Soothing and Brightening Facial features a fresh lemon and aloe brightening mask, a cooling fresh cucumber compress, and hydrating serum, resulting in a gorgeous, radiant complexion. This treatment is paired with a Meyer lemon and aloe juice sparkling refresher. (Skin Quencher price: $195/80 minutes; Facial price: $135/50 minutes or $195/80 minutes)
For more information on each of these Summer 2012 offerings, please visit http://www.aubergeresorts.com
About Auberge Resorts
Auberge Resorts is a collection of exceptional hotels, resorts and private clubs, each with a unique personality that assures a memorable guest experience. While Auberge Resorts nurtures the individuality of each establishment, all are characterized by a set of communal elements: intimate, understated elegance; captivating locations that inspire exceptional cuisine and spa experiences; and gracious yet unobtrusive service. Among the Auberge collection of distinctive properties are: Auberge du Soleil, Napa Valley, Calif.; Calistoga Ranch, Napa Valley, Calif.; Solage Calistoga, Napa Valley, Calif; Esperanza, Cabo San Lucas, Mexico; The Inn at Palmetto Bluff, Bluffton, S.C.; Hotel Jerome, Aspen, Colo.; Auberge Residences at Element 52, Telluride, Colo.; Auberge Residences at Mammoth, Mammoth Lakes, Calif., and Pronghorn Resort and Golf Club, Bend, OR with several others currently in development. For more information about Auberge Resorts, please visit http://www.aubergeresorts.com. Follow Auberge Resorts on Facebook at facebook.com/AubergeResorts and on Twitter at @AubergeResorts