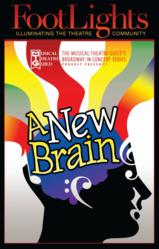 "Los Angeles theatre is dynamic and diverse and we want our ticket giveaway program to match what L.A. theatre offers." - Melissa Watson, FootLights Digital Media Manager
Los Angeles, CA (PRWEB) May 29, 2012
FootLights Publishing, Inc., the leading publisher of full service cross-marketed theatre programs in California is giving away tickets to four upcoming Broadway import performances at The Pantages Theatre in Hollywood and several Hollywood Bowl performances this summer.
Anyone interested in winning tickets needs to register to win at the FootLights Facebook page, http://on.fb.me/GRbz1Q. Once participants register, they will receive a contest announcement prior to each show via the FootLights Passport, a weekly email guide to the latest in theatre and other entertainment offers. Those who respond to the contest are entered to win tickets. The winner is announced on the FootLights website at http://www.gofootlights.com, as well as on Facebook at FootlightsLA and Twitter @FootlightsLA.
The FootLights ticket giveaway program is designed to be interactive and fun rather than a simple draw to win opportunity. FootLights' digital media manager, Melissa Watson, engages theatre enthusiasts with challenges to trivia questions or to create quick one or two line reasons why contestants want to see a particular upcoming show.
"Los Angeles theatre is dynamic and diverse and we want our ticket giveaway program to match what L.A. theatre offers," says Watson. "That's why we focus on making the ticket giveaways fun and intriguing rather than the traditional approach to giveaways."
Registration with the FootLights Passport also gives participants a chance to win tickets to live performances at other Los Angeles performing arts venues beyond the big houses like The Pantages and Hollywood Bowl. The weekly email provides insight and giveaways to theatres of all sizes ranging from innovative 99-seat theatres to The Geffen, Center Theatre Group events and Valley Performing Arts Center.
Peter Finlayson, CEO of FootLights Publishing, says the ticket giveaway program is only the beginning of a broader audience development program the company plans to unveil later this year.
"Los Angeles theatre is a vibrant community. FootLights continues to support its growth by developing innovative ways to engage current patrons and entice new audiences to try live theatre," says Finlayson. "Our giveaway program is the first step in our effort to help people broaden their experience in Los Angeles theatre."
For more information about FootLights Publishing and to stay in touch with what's new in theatre and other ticket offers in Los Angeles, go to http://www.gofootlights.com.
About Footlights Publishing
Footlights Publishing, Inc. is the publisher of Footlights theatre programs for theatres of all sizes in California. The mission of Footlights Publishing, Inc. is to "illuminate the theatre community and expand audience interest and participation in California's ever-expanding, diverse, and creative theatres."