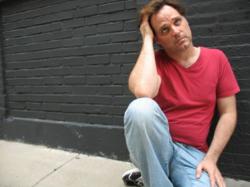 This show is recommended not only for the quality of the production but also to experience American theater history at its best.
Philadelphia, PA (PRWEB) May 29, 2012
New City Stage Company presented the return of their 2011 Philadelphia Fringe Festival hits SAVAGE/LOVE and TONGUES, written and conceived by Sam Shepard and Joseph Chaikin. These companion one-act poetry plays will run from May 26 to June at the Adrienne Theater Second Stage at 2030 Sansom Street in downtown Philadelphia. The show is being performed in repertory with ASYMMETRIC (see the end of this release for more information). Tickets are only $10, and include 1 complimentary drink. Ticket information is available at http://www.NewCityStage.org, clicking here, or by calling 215-563-7500. The show opened this past holiday weekend to great reviews and an invitation to perform in the 2013 Edinburgh Fringe Festival.
New City Stage was thrilled at the reception of the first of 5 performances of SAVAGE/LOVE and TONGUES on Saturday, May 26 at 11 PM. Well-known television and film actor, as well New City Co-Artistic Director, Russ Widdall received a standing ovation as well more favorable reviews for his performance in this one-man tour-de-force performance. City Paper described the original production as "a seamless bond of words, motion, and sound" and called the companion pieces "a soaring soul plunge." The latest City Paper review exclaims that "the seemingly free-form narrative that will not only expand your understanding of theater but plunge you deep into the wants and needs of a lonely soul." The entire review can be read here.
Also well received by audiences, a Saturday evening patron stated: "This production exceeded my expectations in every way. I had no idea what to expect. It was a one person show and the actor was nothing short of amazing. He created dozens of characters in less than an hour, all of them believable, compelling and funny. I couldn't take my eyes off him."
Another audience member came to the show when it was less than full on Sunday and noted that despite the smaller size "the crowd that attended was enthusiastic. Plus we were offered a beverage of choice!"
These and more reviews can be read on Goldstar.
The show only has 2 more performances, Saturday June 2 at 11 PM and Sunday June 3 at 1 PM. When the New City 2011-12 season ends, Mr. Widdall and colleagues will start preparing for the 2013 Edinburgh Fringe Festival. The company received notice prior to the Saturday late night opening that they had been screened into plays eligible to participate in 2013's August festival. Producing Artistic Director Ginger Dayle has already begun to raise funds to take the staff and crew to the festival.
Russ Widdall is a television and film actor best known for his role as not-so-bright lab technician Ron Lowenthal on season 2 of HBO's THE WIRE. Other television appearances include HACK, IT'S ALWAYS SUNNY IN PHILADELPHIA and ALL MY CHILDREN. He has had featured roles in several movies including NATIONAL TREASURE 2 (treasure fanatic) and the recent GAME CHANGE with Julianne Moore (where he played a Sarah Palin supporter, of course!). He also had a love scene with Rene Zellweger in MY ONE AND ONLY and then got to push her out of a limousine (she was a good sport about it). He has been an actor in the Philadelphia-to-New-York-City area for over 20 years and one of his more notable roles was as Carlson in the Barrymore Award-winning production OF MICE AND MEN at the Walnut Street Theatre.
Russ grew up in York, Pennsylvania and attended York Suburban High School before going to Temple University to study Theatre and Communications. He is actively involved in education, particularly at the University of the Arts in Philadelphia where he regularly performs in productions alongside students and mentoring young actors. He also oversees New City Stage's internship program, which gives many students in Philadelphia studying theatre the opportunity to work on a professional production prior to graduating and helping them launch their careers.
Also playing on the Adrienne Theatre Second Stage:
ASYMMETRIC
A world premiere espionage thriller & romance by Mac Rogers
Directed by Russ Widdall
Running until June 10, 2012
More information about ASYMMETRIC
ASYMMETRIC has also received great praise on web sites such as Stage Magazine, Curtain Up, and Goldstar.
Mr. Widdall is thrilled to be remounting his successful one-man show and making his directorial debut at the Adrienne. He is in his 4th season as Co-Artistic Director of New City and will be a mentor for the new education program VOICES FOR A NEW CITY, which begins in the fall.
About New City Stage Company:
New City Stage Company, founded in 2006, is dedicated to presenting high quality professional theatre that engages audiences on a variety of levels; not only entertaining them but also encouraging awareness of issues relevant to the community. We draw our season from contemporary and classical works, with a special focus on including Philadelphia premiers from playwrights whose work and stories are not normally found in the region.