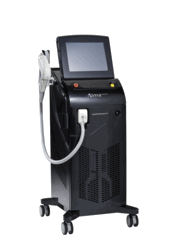 With Soprano, millions of people feel good about their body without the pain.
Caesarea, Israel (PRWEB) May 31, 2012
Alma Lasers, the world's leading developer of innovative aesthetic technologies, celebrated the world-wide success of its solution for virtually pain free laser hair removal with the sale of its 7,000th laser system based on SHR technology.
Soprano with SHR technology reduces the pain of laser hair removal by heating the hair follicle root in a gradual manner as opposed to a single, energy-intensive pulse used by other laser technologies.
"For comparison's sake, Soprano is like lifting a small weight many times, while other technologies are similar to lifting a 1 ton brick. Soprano removes hair just as well as other lasers, but does so without the high sensation of pain or adverse effects. Furthermore, since the Soprano is less aggressive, it is the safest option for dark skinned individuals interested in laser hair removal," Explained Dr. Ziv Karni, Founder and CEO of Alma Lasers.
Dr. Karni further added, "7,000 is a significant milestone in the aesthetic laser industry. Even according to the most conservative estimates, millions of people in nearly every country have used the Soprano for hair removal. The sale of 7,000 systems is a clear sign that practitioners and their clientele are seeking the Soprano and SHR technology for virtually pain free laser hair removal."
Since its introduction in 2006, Soprano with SHR technology has been the subject of numerous scientific studies which have proven its efficacy in removing hair with less pain. Excluding just a handful of countries, Soprano is the world's most sold platform for laser hair removal.
In addition to the Soprano, SHR technology can be found on a number of laser systems manufactured by Alma Lasers including the HarmonyXL, a multi-technology platform that treats nearly 70 FDA cleared indications.
Other innovative technologies developed by Alma Lasers include iTED, a scar treatment that combines cosmeceuticals with the use of laser and energy devices; Accent Ultra V, a combined ultrasound and radiofrequency platform for removing fat and cellulite; and Laser360iQ, a multi-technology program for reversing all signs of ageing skin.
About Alma Lasers, Ltd.
Alma Lasers is the leading supplier of innovative medical aesthetic technologies. Alma Lasers is recognized by industry practitioners for its whole-hearted commitment to providing complete solutions to professional practices.
Alma Lasers offers innovative technologies, dependable equipment, knowledgeable sales staff, and years of industry expertise. We seek the creation of a strong and lasting relationship with our doctors and aesthetic clinics based on trust and a genuine desire for the success of the practice.
For more information visit http://www.painfreehairfree.com
Facebook: http://www.facebook.com/almalasers
YouTube: http://www.youtube.com/watch?v=dYu-JXCwiGo
Twitter: @almalasers