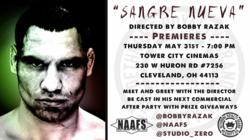 Cleveland, OH (PRWEB) May 29, 2012
Deciding to open tickets to the screening of Sangre Nueva to the public, Bobby Razak has also invited local MMA fighters and personalities, as well as some of Cleveland's top celebrities to be part of this event. In addition to the screening, Razak is working along side of Los Angeles based Studio Zero to produce a high profile commercial that will showcase Saturday's Fight Night in the Flats VIII. Bobby Razak and Studio Zero are inviting fighters of all levels to come to the screening as they will be scouting local talent for casting opportunities in their upcoming NAAFS commercial.
Tickets to Sangre Nueva are available at the Tower City Cinemas box office, located at 230 Huron Road, Cleveland, OH 44113.
The NAAFS, which President and CEO Greg Kalikas founded in 2005, has quickly grown into an MMA powerhouse and has helped to launch the careers of fighters in both Bellator and the UFC. With crowds of over 5000 spectators, the NAAFS is also showcased to over 10 million homes via Sports Time Ohio.
Studio Zero, founded by Ohio natives Mike Wilkinson and Jonathon Carmichael, has worked extensively in both the entertainment and MMA industries and are excited to bring a touch of Hollywood to Cleveland.
Tickets for "Fight Night in the Flats VIII" are available at http://store.naafs.biz/fight-nite-in-the-flats-viii.html. General Admission: $30, VIP Table, Row 3: $50, VIP Table, Row Two: $75, VIP Table, Row One: $100, VIP Stage Table: $125, VIP Booth Seats: $60. The main card will also be broadcasted live on GoFightLive.com for $9.99.