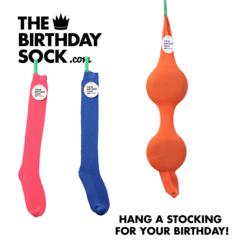 The Birthday Sock is a bold new twist on a special day
Portland, OR (PRWEB) May 29, 2012
The beloved tradition of the Christmas gift stocking has been given a very untraditional makeover with the new product The Birthday Sock. The Birthday Sock is the invention of a young (nameless) girl from Portland, Oregon. In the attempt to get more presents for her birthday, she hung up an old brown sock believing it would charm her family into some extra gift giving, hopefully reaping the same rewards as her Christmas stocking faithfully did year after year. The next morning when she awoke, she found that her sock was packed full of little gifts! Her plan had worked and thus The Birthday Sock was born, a new tradition had begun!
No need to sacrifice old tattered socks in the attempt to get more presents, http://www.thebirthdaysock.com is now producing The Birthday Sock for everyone. The Birthday Sock is a fun way to charm families and friends into giving out more presents for birthdays. Simply hang The Birthday Sock in a conspicuous place a day or two before the birthday boy / girl's birthday and alert loved ones of it's presence. When the recipient awakens, they'll be amazed to find The Birthday Sock packed full of all kinds of wonderful goodies! But really, who says gift stockings can only be hung for Christmas? The Birthday Sock is a new birthday tradition!
The Birthday Sock is built to fill. Measuring roughly 3x25 inches, it can easily stretch out to twice it's size. The Birthday Sock is made of 100% nylon which allows it to be filled year after year and never lose its shape. The Birthday Sock stretches easily and changes shape with anything that's put in it. Get creative and make a Birthday Sock sculpture!
Of course thebirthdaysock.com does not guarantee that The Birthday Sock will get people more presents on their birthdays, but they do estimate that it will increase the odds by about 300%.