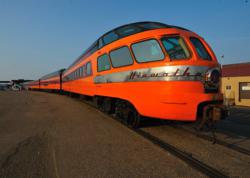 Two Iowa Interstate trips will feature one of the railroad's Chinese QJ steam locomotives, as well as modern diesel power.
Cedar Rapids, Iowa (PRWEB) May 30, 2012
Tickets are still available for the 2012 National Railway Historical Society (NRHS) convention, featuring five days of historic, rare mileage train rides and visits to area railroad museums. Based in Cedar Rapids, the June 18-24 event marks the first NRHS convention held in the Hawkeye State.
Seats on vintage dome-lounge cars and coaches are both available for most trips. The convention actually starts on Sunday, June 17 in Chicago with a rare chartered Amtrak train, departing from historic Union Station and arriving in Cedar Rapids to kick off the main event.
Five different rail excursions are scheduled, all on lines that normally see only freight trains. Two Iowa Interstate trips will feature one of the railroad's Chinese QJ steam locomotives, as well as modern diesel power. A private excursion on the Boone & Scenic Valley Railroad will now be powered by steam engine JS 8419, a Chinese 2-8-2 locomotive built in 1988.
Trips are also planned on the Iowa Northern and former interurban Cedar Rapids & Iowa City (CRANDIC) regional railroads. These trips will operate from Cedar Rapids to destinations across the region, including Davenport, Newton, Iowa City, and Waterloo. An additional convention train will operate from Cedar Falls to Manly.
Each passenger train trip offers a choice of coach, club-lounge, dome-lounge and premium service seating. Lunch is included for everyone on all full-day trips and additional snacks are included in the ticket price for lounge and premium-class seats. Photo stops and runbys are scheduled for all trips and most include unique tour opportunities during lunch stops.
To attend the convention or ride the passenger trains, visit the NRHS convention website at http://www.nrhs.com/news/2012-nrhs-convention-cedar-rapids-iowa. Online ticket orders will end on Friday, June 8; after that, tickets will be available for all trips at the Clarion Hotel & Convention Center in Cedar Rapids starting Sunday evening, June 17. The NRHS ticket desk will be open each morning of the convention from 6-8 a.m., and each evening from 6-8 p.m. Pricing packages can be viewed at: http://www.nrhs.com/sites/default/files/2012_Convention_Package.pdf
Other highlights include a full day of steam and electric train operations at the Midwest Old Threshers facility in Mount Pleasant, tours of Amana and Kalona, visits to the former Chicago Great Western shops at Oelwein, and a series of seminars on Iowa railroad history and national rail issues. Additional events include visits to industrial facilities, a banquet, and the annual meetings of the board of directors and membership. The convention ends with a return passenger train to Chicago on June 25.
Convention activities will include a night photo session and the traditional annual banquet. The convention will also include a number of seminars and learning opportunities scattered throughout the week.
A special highlight: NRHS will bring the former Milwaukee Road passenger car "Cedar Rapids" to Iowa, the first time in its namesake city since the "Skytop" car was built in the 1940s. With a curved glass end that provides 180-degree viewing, the rare car will be used on seven different excursions.
"Many of these rare passenger cars are historic and have been restored by NRHS members and other rail preservation groups," explained convention chair Barton Jennings. "This is our chance to show off these treasures to the public."
"This is the major annual activity for NRHS members," said Greg Molloy, president. "Our members come from around the world to ride and photograph trains, share information, and help shape the railroad preservation movement."
About NRHS
Founded in 1935, the National Railway Historical Society (NRHS) is a non-profit organization established to preserve and raise awareness of America's railroad heritage. NRHS operates historic rail excursions and tours throughout North America and supports more than 160 regional chapters. During the past 10 years, the society has awarded more than $500,000 in railroad preservation grants; it also sponsors RailCamp, a summer orientation program offering high school youth hands-on experience in the railroad industry. For more information, visit http://www.nrhs.com.
Media Contacts:
Barton Jennings
Chair, 2012 NRHS Convention
309-465-9481
b.jennings(at)mchsi.com
Elrond Lawrence
Director, NRHS Public Relations
831-578-1680
elrondlawrence(at)att.net